06.08.2018 | Original Research | Ausgabe 2/2018 Open Access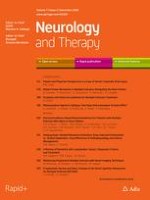 Real-World Observational Evaluation of Hair Thinning in Patients with Multiple Sclerosis Receiving Teriflunomide: Is It an Issue in Clinical Practice?
Zeitschrift:
Autoren:

Lori Hendin Travis, Annette Okai, Steve Cavalier, Darren Stam, Lisa Farnett, Keith R. Edwards
Abstract
Introduction
Hair thinning occurred in 10–14% of teriflunomide-treated patients in the teriflunomide multiple sclerosis clinical development program, compared with 5% of placebo-treated patients. Our objective was to examine the clinical course of hair thinning in patients in an observational real-world project.
Methods
Patients with relapsing–remitting multiple sclerosis who reported hair thinning to healthcare professionals (HCPs) during treatment with teriflunomide were eligible for inclusion. During two office visits, one at onset of hair thinning and another at follow-up, HCPs and patients completed questionnaires that categorized hair thinning as mild, moderate, or severe, or from 0 (no hair thinning) to 10 (very severe hair thinning), respectively. At the follow-up visit, patients also rated the degree of recovery. Patients were photographed at both visits with a standardized protocol and camera.
Results
Of the 38 patients who completed follow-up, most were women (97%) without prior history of hair thinning (87%), with the majority (68%) receiving concomitant medications potentially associated with hair thinning. The mean time to onset of hair thinning was 77 days after the first teriflunomide dose. HCPs classified the majority of hair thinning events as mild (63%) or moderate (34%), with one event classified as severe (3%). The mean patient severity perception was 5/10, and complete/near-complete resolution or marked improvement was reported by 79% of patients.
Conclusion
Consistent with observations from the teriflunomide clinical program, hair thinning was usually mild and occurred within the first 3 months of treatment, with most patients fully recovering while remaining on teriflunomide treatment. As with any potential adverse event, it is important to ensure appropriate expectations through patient education before treatment.