15.03.2019 | Sleep Breathing Physiology and Disorders • Original Article | Ausgabe 4/2019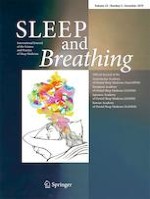 Real-world STOPBANG: how useful is STOPBANG for sleep clinics?
Zeitschrift:
Autoren:

Keun Tae Kim, Yong Won Cho
Wichtige Hinweise
Comments
This is a meaningful study of STOP-Bang, one of the most widely used questionnaire of OSA but rarely validated in Korean population.
Seong Min Oh
Seoul, Korea
Given the low specificity of the STOPBANG questionnaires, a more specific pre-test screening tool is warranted to make an early diagnosis of OSA in a cost-effective manner.
Yung-Che Chen
Taiwan
Publisher's note
Springer Nature remains neutral with regard to jurisdictional claims in published maps and institutional affiliations.
Abstract
Purpose
The STOPBANG questionnaire has been widely used for screening obstructive sleep apnea (OSA) due to its time friendly, economic advantages over overnight polysomnography (PSG). The aim of this study was to analyze the usefulness of the items constituting the utility of STOPBANG in a sleep clinic and to establish the best assembly for OSA-screening methods in the Korean population.
Methods
We retrospectively analyzed all patients who completed PSG as well as STOPBANG at a sleep center in a tertiary hospital from January 2016 to December 2017. The sensitivity and specificity of STOPBANG and its smaller counterparts (i.e., SOPBAG) were compared.
Results
A total of 541 subjects completed PSG and STOPBANG. Two hundred thirty-five patients were diagnosed with OSA (OSA+) and were compared to those who were not (OSA−). The respective scores of STOPBANG in OSA+ versus OSA− were 4.29 ± 1.46 and 2.53 ± 1.48 (
p
 < 0.001). There were significant differences in all factors except tiredness and age (SOPBNG). STOPBANG showed sensitivity of 89.1% and specificity of 57.4%. The AUC was 0.809. Excluding tiredness as well as neck circumference (SOPBAG), the AUC was 0.811. The sensitivity and specificity were 71.8% and 77.9%, respectively. The AUC of SOPBAG was neither superior nor inferior to that of STOPBANG.
Conclusion
The screening value of STOPBANG for OSA did not perform as expected when compared to PSG for accuracy in Koreans. STOPBANG can be simplified to SOPBAG while maintaining comparable screening performance. It may be practical to consider performing PSGs without the use of the STOPBANG in Korea.