01.12.2017 | Review | Ausgabe 1/2017 Open Access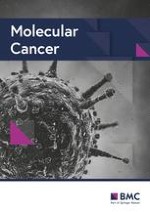 Recent advances in the use of PI3K inhibitors for glioblastoma multiforme: current preclinical and clinical development
Zeitschrift:
Autoren:

Hua-fu Zhao, Jing Wang, Wei Shao, Chang-peng Wu, Zhong-ping Chen, Shing-shun Tony To, Wei-ping Li
Abbreviations
4EBP
Eukaryotic initiation factor 4E–binding protein
EGFR
Epidermal growth factor receptor
EMT
Epithelial-to-mesenchymal transition
GPCR
G protein-coupled receptor
GSLC
Glioblastoma stem-like cell
IC50
Half maximal inhibitory concentration
LSCC
Lung squamous cell carcinoma
mTOR
Mammalian target of rapamycin
NSCLC
Non-small cell lung cancer
PDK-1
Phosphoinositide-dependent kinase 1
PFS
Progression-free survival
PHLPP
PH domain and leucine rich repeat protein phosphatase
PI3K
Phosphatidylinositol 3-kinase
PIP2
Phosphatidylinositol 4,5-bisphosphate
PIP3
Phosphatidylinositol 3,4,5-triphosphate
PTEN
Phosphatase and tensin homolog deleted on chromosome 10
TRAIL
Tumor necrosis factor-related apoptosis inducing ligand
TSC
Tuberous sclerosis complex
Background
Hyper-activation of PI3K/Akt pathway confers rapid growth, tumor progression and multidrug resistance upon GBM cells. Inhibition of PI3K alone or in combination with other molecules may result in GBM cell death and retarded tumor progression. Here, we summarize the roles of PI3K in GBM and highlight recent advances and challenges in the development of PI3K inhibitors as targeted therapeutic agents for GBM. The most recent experimental, preclinical and clinical studies are presented to emphasize the prospect of PI3K inhibitors for GBM treatment.
Conclusions
Targeting PI3K signaling as a therapeutic approach for cancer treatment has been discussed for more than a decade based on a solid foundation of experimental and preclinical studies. Recently, the p110δ inhibitor CAL-101 has been approved by FDA for certain types of lymphoma, offering hopes of PI3K inhibitors for cancer treatment [
129
]. Due to many challenges, clinical data do not favor PI3K inhibitors in GBM treatment, suggesting that targeting PI3K alone is not sufficient to treat GBM.
The future strategies to promote the potential of PI3K inhibitors for GBM treatment need to focus upon: [
1
] identifying genetic alternations such as
PI3KCA
mutations,
PTEN
mutations/loss and
RAS
mutations prior to the treatment regime; [
2
] rational combinations with other molecules' inhibitors or other therapies, on the basis of understanding of the crosstalks between PI3K and other signaling molecules/pathways; [
3
] employing a BBB-permeable drug delivering system specifically targeting GBM cells to decrease toxicities on normal cells. Implement of these ideas may guide us in the right directions and develop more effective therapeutic approaches for GBM treatment.
Acknowledgements
The authors would like to thank Wen-lan Liu, Zong-yang Li, Yuan Zhang and Hui Tan for the discussion of the manuscript.
Funding
This work was supported by Grants from National Natural Science Foundation of China (No. 81602195), China Postdoctoral Science Foundation (No. 2016M592588), Shenzhen Science and Technology Innovation Commission (No. JCYJ20160425104157183, No. ZDSYS20140509173142601, and No. GCZX2015050411225563), the Open Funds of State Key Laboratory of Oncology in South China (No. HN2016–09), and the Fund of High Level Medical Discipline Construction in Shenzhen (No. 2016031638).
Availability of data and materials
Not applicable.
Authors' contributions
HFZ is the major contributor in writing the manuscript. JW, WS, CPW and ZPC provided suggestions to revise the manuscript. SSTT and WPL designed and revised the manuscript. All authors have reviewed the final manuscript.
Competing interests
No competing of interest exits in the submission of this manuscript, and it has been approved by all authors for publication.
Consent for publication
Not applicable.
Ethics approval and consent to participate
Not applicable.
Publisher's Note
Springer Nature remains neutral with regard to jurisdictional claims in published maps and institutional affiliations.
Open Access
This article is distributed under the terms of the Creative Commons Attribution 4.0 International License (
http://​creativecommons.​org/​licenses/​by/​4.​0/​
), which permits unrestricted use, distribution, and reproduction in any medium, provided you give appropriate credit to the original author(s) and the source, provide a link to the Creative Commons license, and indicate if changes were made. The Creative Commons Public Domain Dedication waiver (
http://​creativecommons.​org/​publicdomain/​zero/​1.​0/​
) applies to the data made available in this article, unless otherwise stated.