01.12.2019 | Review | Ausgabe 1/2019 Open Access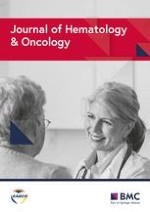 Recent advances of therapeutic targets based on the molecular signature in breast cancer: genetic mutations and implications for current treatment paradigms
Zeitschrift:
Autoren:

Zeinab Safarpour Lima, Mostafa Ghadamzadeh, Farzad Tahmasebi Arashloo, Ghazaleh Amjad, Mohammad Reza Ebadi, Ladan Younesi
Abbreviations
AMPK
AMP-activated protein kinase
CCLE
Cancer cell line encyclopedia
EGFRs
Epidermal growth-factor receptors
FGFR2
Fibroblast growth factor receptor 2
GEMMs
Genetically engineered mouse models
GWAS
Genome-wide association studies
PDX
Patient-derived xenograft
PTEN
Phosphatase and tensin homolog protein
SNPs
Single-nucleotide polymorphisms
TNBC
Triple-negative breast cancer
Introduction
Several risk factors was recognized to be associated with breast cancer development including age, hormonal, reproductive, menstrual history, alcohol, radiation, hereditary factors, obesity, etc. [
1
]. Among these risk factors, age is the biggest risk factor for developing breast cancer followed by a positive family history. Based on data presented in literatures, previous studies discovered several features of inherited mutations in the genes. It was estimated that about 10–30% of breast cancer cases are related to hereditary factors, also 5–10% of breast cancers were detected with strong hereditary factors, while between 4 and 5% of these cases was identified by mutations in high-penetrant genes [
2
].
BRCA1 and BRCA2 have been known as regulators of DNA repair, transcription, and cell cycle in reply to DNA damage. BRCA1 and BRCA2 genes are the most commonly mutated genes that are associated with high breast cancer risk [
3
,
4
]. It has been reported that 60% of hereditary breast cancers can be related to germline mutations in either of these genes [
5
]. The number of genes are associated with multiple cancer syndromes for example phosphatase and tensin homolog protein (PTEN) (Cowden syndrome), TP53 (Li-Fraumeni), STK11/LKB1 (Peutz-Jeghers), ataxia telangiectasia (ATM) (Louis-Bar Syndrome), and NBS1 (Nijmegen breakage syndrome), but other genes associated with hereditary breast cancer are emerging. Cancer predisposing genes can be classified as high-penetrant genes including BRCA2, BRCA2, TP53, STK11, and CDH1 [
6
–
9
]. On the other hand, the majority of gens can be categorized as moderate-penetrant genes in most of the breast cancer cases including CHEK2, ATM, CDH1, NBS1, BRIP1, PALB2, BARD1, RAD50, and RAD51, which are frequently mutated in the general population and contribute in developing of breast cancer [
3
,
10
,
11
].
The present study try to focus on the spectrum of mutations, polymorphisms, and variants in each gene which are linked to breast cancer as well as how it contributes to the disease.
Current aspects and personalized medicine
There are several cancer syndromes in which the alleles are located in a predominant autosomal dominant fashion and thus lead to a high risk of neoplasm. In addition, non-genetic factors have been revealed to be implicated in mutation or other genetic changes. Together with genetic changes in tumors, a variety of inherited genetic changes in the genes are involved in drug metabolism, which are capable of affecting therapeutic responses (e.g., increasing toxicity of the drug). Advances in "pharmacogenomic" science lead to providing a specific treatment based on individual genetic information [
12
]. In this regard, personalized medicine open an opportunity for applying the correct therapeutic strategy at the appropriate, with the least toxic or non-toxicity, and this treatment should be appropriate for a suitable patient at the right time, where treatment will rely on genetic changes in everyone's cancer. As a matter of fact, future-oriented attitudes in the medical arena should be taken into consideration because we need to keep in mind that genetic testing will be able to help decide on better therapies where the patient does not respond to a certain treatment, because this approach can avoid receiving medications that are not likely to be helpful.
Given the personalized medicine, information about genetic changes in the tumor can help to elucidate the right therapeutic decision. The completion of the human genome project and the continuous advancement in genetic research will facilitate the diagnosis and treatment of many diseases. Genomic studies developed to increase the medical awareness and ability to produce, analyze, and interpret effective genetic data. However, their effects on clinical performance occur at a much slower rate [
13
,
14
]. Scientists now realize that changes that occur in a person's cancer may not occur in other people with the same type of cancer, while the same cancerous changes may be found in a variety of cancers.
We now learn more about genomic changes (change in number of copies, deletion, mutations, single-nucleotide polymorphism) and the correlation of these mutations with many types of cancers. These communication studies help determine who is at risk for cancer [
15
]. It is hoped that the genomic cancer will expand with the use of whole-genome sequencing (WGS), DNA sequencing technology, and cancer cell analysis enables researchers to clearly reveal new genetic changes associated with cancers, which is likely to be very beneficial for the development of personalized medicine. Providing an integrated analysis and systematic characterization of key genomic mutations in different kinds of breast cancer (BC) subtypes can lead to advances in the use of favorable diagnostic, therapeutic, and preventative strategies. Cancer can be considered to be a genomic disease that each tumor has a set of specific genetic alteration. In-depth understanding of the genetic alteration and molecular mechanisms that underlie regulation of gene expression profiles in BC cells leads to favorable effective therapeutic approach that is dedicated to the genetic profile of each person.
High-penetrant gene
Moderate-penetrant genes
Concluding remarks, the potential treatment model of breast cancer and current and future perspectives
Molecular targeted therapy and immunotherapies are attracting attention of researchers as they offer approach for providing novel targets for future therapeutic strategies.
Dual-targeted therapy using trastuzumab and pertuzumab can be another strategy in this regard.
Researchers reported mutations in specific genes which may predispose individuals to developing certain cancers. BRCA1 and BRCA2 are among the most frequently mutated genes implicated in hereditary BC. TP53 is another cancer predisposing gene, in which significant mutation could be attributed to attribute to a TNBC. Among other high-penetrant genes, a number of rare germline mutations has been emerged that the most notable of which are PTEN (Cowden syndrome); STK11/LKB1 (Peutz-Jeghers). Cancer predisposing genes and their pathways are importance for establishment of preventative and therapeutic targets. Regarding the widespread multigene panels, whole exome sequencing is capable of providing evaluation of genetic function mutations for development of novel strategy in clinical trials. Regarding molecular findings, ample deviance indicated that a number of subgroups are sensitive to specific targeted agents (e.g., PI3K or PARP inhibitors). The mechanistic roles of majority of mutations have been poorly described in breast cancer. Further experimental studies will require in depth-understanding of molecular mechanism to empirically clarify their roles and cell type-specific functions in breast cancer biology.
Acknowledgements
Not applicable.
Funding
This study did not receive any specific research grant though a private, public or non-profit funding agency.
Availability of data and materials
Not applicable.
Ethics approval and consent to participate
Does not apply as it is a review article.
Consent for publication
Not applicable.
Competing interests
The authors declare that they have no competing interests.
Publisher's Note
Springer Nature remains neutral with regard to jurisdictional claims in published maps and institutional affiliations.
Open Access
This article is distributed under the terms of the Creative Commons Attribution 4.0 International License (
http://​creativecommons.​org/​licenses/​by/​4.​0/​
), which permits unrestricted use, distribution, and reproduction in any medium, provided you give appropriate credit to the original author(s) and the source, provide a link to the Creative Commons license, and indicate if changes were made. The Creative Commons Public Domain Dedication waiver (
http://​creativecommons.​org/​publicdomain/​zero/​1.​0/​
) applies to the data made available in this article, unless otherwise stated.