01.12.2017 | Review | Ausgabe 1/2017 Open Access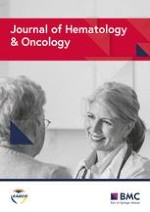 Recent developments in immunotherapy of acute myeloid leukemia
Zeitschrift:
Autoren:

Felix S. Lichtenegger, Christina Krupka, Sascha Haubner, Thomas Köhnke, Marion Subklewe
Abbreviations
ALL
Acute lymphoblastic leukemia
BiTE
Bispecific T cell engager
CAR
Chimeric antigen receptor
CMML
Chronic myelomonocytic leukemia
CRi
Complete remission with incomplete recovery
DART
Dual-affinity re-targeting
FDA
Food and Drug Administration
HSCT
Hematopoietic stem cell transplantation
RCT
Randomized controlled trial
scFv
Single-chain variable fragment
Background
In this review, we will present recent advances made in the aforementioned fields of immunotherapy of AML. HSCT and immunotherapeutic strategies for relapse after HSCT constitute a review topic on their own and have been excluded. As published data from clinical trials is still scarce for the majority of immunotherapeutic approaches, we will integrate currently running clinical trials to point out upcoming directions in this field.
Antibody-drug conjugates for immunotherapy of AML
T cell-recruiting antibody constructs for immunotherapy of AML
CAR T cells for immunotherapy of AML
Checkpoint inhibitors for immunotherapy of AML
Taken together, checkpoint inhibition in AML is still in its infancy, and results of the currently ongoing trials have to be awaited before further conclusions about the applicability of this concept to AML and the existence of any AML-specific side effects of checkpoint inhibition can be drawn. Combination therapies including checkpoint inhibitors, particularly with HMAs, might turn out to be an important step forward.
Dendritic cell vaccination for immunotherapy of AML
In conclusion, current data suggests that DC vaccination is particularly successful at inducing novel immune responses. Combining this approach with checkpoint inhibition or immunomodulating agents including HMAs in order to further enhance the immune responses seems an interesting way to follow.
Conclusions
Immunotherapy of cancer has made unprecedented progress in the past few years. While novel immunotherapeutic strategies have already moved into standard clinical practice for various solid cancers as well as selected hematological neoplasms including ALL, a similar development is lagging behind for the treatment of AML. However, different immunotherapeutic concepts are currently being evaluated in clinical trials, with some promising results already published and a lot more of interesting studies expected to be completed within the next couple of years.
The lack of an appropriate target antigen with a restricted expression pattern similar to CD19 or CD20 for B cell neoplasms is a major obstacle for the application of targeted immunotherapy in AML. This problem is shared by ADCs, T cell-recruiting antibody constructs and CAR T cell constructs, where promising leukemia-specific responses seen in early clinical trials are often accompanied by severe on-target off-leukemia toxicity to the myeloid compartment. CD33 and CD123 are the major target antigens of constructs in clinical development so far. Results of the ongoing clinical trials need to be awaited in order to weigh potential benefits vs. side effects. In order to prospectively reduce on-target off-leukemia toxicities, several strategies are followed: The identification of novel leukemia-associated antigens could provide more specific targets. Comprehensive transcriptomic and proteomic analysis is ongoing to fully characterize the AML surfaceome [
110
]. Alternatively, leukemia-specific neoantigens arising from AML-associated mutations should be further evaluated as source of novel target molecules. Furthermore, dual-targeting approaches could improve treatment specificity while relying on combinations of already known AML-associated antigens.
ADCs have already proven their therapeutic potential in AML. Results of currently running clinical trials will help to identify the optimal clinical setting and to better estimate the risk-benefit ratio. In contrast, T cell-recruiting antibodies and CAR T cell constructs are still in the early phase of clinical development for the therapy of AML, with several currently running phase I trials studying the feasibility and toxicity of their application. Activation of endogenous T cell responses through checkpoint blockade and/or DC vaccines appears to be safe, but has yet to demonstrate its clinical potency when used as a monotherapy for the treatment of AML. Different combinations including HMAs to modulate immune responsiveness appear suitable and are increasingly being tested.
While immunotherapy in AML is complicated by different characteristics including lack of an AML-specific target antigen, low mutational burden resulting in low endogenous immune responses and intrinsic resistance mechanisms of the leukemic blasts against immune responses, remarkable progress has been made with different strategies in the past few years. Hope is high that alternative immunotherapeutic strategies with less treatment-related morbidity and mortality compared to allogeneic HSCT will move into clinical practice within the coming years. Still, many further steps have to be taken before the vision of an individualized immunotherapy for each AML patient based on risk factors and biomarkers can become clinical reality.
Acknowledgements
Not applicable.
Availability of data and materials
Not applicable.
Ethics approval and consent to participate
Not applicable.
Consent for publication
Not applicable.
Competing interests
MS received research funding from Amgen and Roche. MS received either travel reimbursements or consultant fees from Amgen, Celgene, Pfizer, and Seattle Genetics. All other authors declare that they have no competing interests.
Publisher's Note
Springer Nature remains neutral with regard to jurisdictional claims in published maps and institutional affiliations.
Open Access
This article is distributed under the terms of the Creative Commons Attribution 4.0 International License (
http://​creativecommons.​org/​licenses/​by/​4.​0/​
), which permits unrestricted use, distribution, and reproduction in any medium, provided you give appropriate credit to the original author(s) and the source, provide a link to the Creative Commons license, and indicate if changes were made. The Creative Commons Public Domain Dedication waiver (
http://​creativecommons.​org/​publicdomain/​zero/​1.​0/​
) applies to the data made available in this article, unless otherwise stated.