01.09.2009 | Original Paper | Ausgabe 3/2009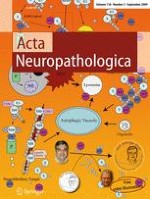 Receptor for advanced glycation end products is upregulated in optic neuropathy of Alzheimer's disease
Zeitschrift:
Autoren:

Michelle Y. Wang, Fred N. Ross-Cisneros, Divya Aggarwal, Chiao-Ying Liang, Alfredo A. Sadun
Abstract
Although Alzheimer's disease (AD) has been shown to be associated with a true primary optic neuropathy, the underlying pathophysiology of this disease and in particular the optic nerve disorder is still poorly understood. The receptor for advanced glycation end products (RAGE) has been implicated in the pathogenesis of AD by mediating the transport of plasma amyloid-β into the brain. Once ligated, RAGE can play a role in signal transduction, leading to amplification and perpetuation of inflammatory processes. As a key player in the reaction to CNS injury, astrocytes have been shown to associate with RAGE in a number of diseases, including AD. To investigate the role of RAGE and astrocytes in the pathogenesis of AD optic neuropathy, we conducted immunohistochemical studies to examine the presence of RAGE in donor eyes from patients with AD (
n
= 10) and controls (
n
= 3). Both qualitative observation and quantitative analyses using imaging software were used to document the extent of RAGE in the neural tissues. The intensity and extent of RAGE expression was more prominent in AD nerves compared to controls (
P
< 0.05). The RAGE immunoreactivity was observed in the microvasculature and in close proximity to astrocytic processes. While RAGE immunoreactivity increased with age, the increase was more precipitous in the AD group compared to the controls. The up-regulation of RAGE in the AD optic nerves indicates that RAGE may play a role in the pathophysiology of AD optic neuropathy.