01.12.2015 | Research article | Ausgabe 1/2015 Open Access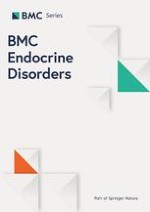 Recombinant growth hormone therapy in children with short stature in Kuwait: a cross-sectional study of use and treatment outcomes
Zeitschrift:
Autoren:

Dalia Al-Abdulrazzaq, Abdullah Al-Taiar, Kholoud Hassan, Iman Al-Basari
Wichtige Hinweise
Competing interests
The authors declare no competing interests.
Authors' contributions
DA: Designed the study, contributed to data collection, analysis, interpretation, and drafted the manuscript. AA: Contributed to data analysis, interpretation and drafting of the manuscript. KS: Contributed to data collection and interpretation. IA: Contributed to study design, data collection, interpretation and drafting of the manuscript. All authors read and approved of the manuscript.
Author's information
DA is a certified Pediatric Endocrinologist who completed her paediatric residency at the Hospital for Sick children in Toronto, Ontario, Canada (RCPC). She then completed her pediatric training in Endocrinology and Metabolism at the Hospital for Sick Children in Toronto. Ontario, Canada (RCPC). She is currently an Assistant Professor at the Department of Pediatrics at the Faculty of Medicine, Kuwait University and a Pediatric Endocrinologist at the Department of Pediatrics at Mubarak Al-Kabeer Hospital, Kuwait.
Abstract
Background
Recombinant Growth hormone (rGH) therapy is approved in many countries for treatment of short stature in a number of childhood diagnoses. Despite the increasing body of international literature on rGH use, there is paucity of data on rGH use in Kuwait and the broader Middle-East which share unique ethnic and socio-cultural backgrounds. This study aimed to describe the pattern of use and treatment outcomes of rGH therapy in Kuwait.
Methods
This is a cross-sectional retrospective review of children treated with rGH in the Department of Pediatrics, in a major hospital in Kuwait between December 2013 and December 2014. Data were extracted using standard data extraction form and the response to rGH therapy was defined as a gain of ≥ 0.3 standard deviation score (SDS) of height per year.
Results
A total of 60 children were treated with rGH in the center. Their Median (Interquartile) age at rGH initiation was 9.0 (6.2, 10.7) years. The most common indications for rGH therapy were Growth Hormone Deficiency (GHD) 23 (38.3 %), Idiopathic Short Stature (ISS) 12 (20.0 %) and Small for Gestational Age (SGA) 9 (15.0 %). After excluding patients with TS, no significant differences were found in gender of those who received rGH therapy in all indications combined or in each group (
p
 ≥ 0.40). At 1-year follow-up, children in all groups had median height SDS change of ≥ 0.3 SDS except for children with ISS. Age at rGH initiation was negatively associated with 1-year treatment response, Adjusted odds ratio (AOR) 0.56 (95 % CI: 0.04–1.49);
p
 = 0.011).
Conclusions
GHD is the most common indication of rGH therapy. All indications except for ISS showed significant 1-year treatment response to therapy. Treatment outcomes in patients with ISS should be further investigated in Kuwait. Younger age at initiation of rGH therapy was independently associated with significant response to therapy suggesting the importance of identifying children with short stature and prompt initiation of rGH therapy.