01.12.2015 | Research article | Ausgabe 1/2015 Open Access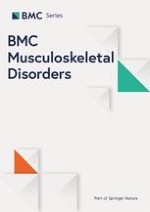 Reconstruction of the coracoacromial ligament during a modified Latarjet procedure: a case series
Zeitschrift:
Autoren:

Matthias Aurich, Gunther O. Hofmann, Florian Gras
Wichtige Hinweise
Competing interests
The authors declare that they have no competing interests.
Authors' contributions
MA designed the study protocol, developed the surgical technique, and drafted the manuscript. GH was involved in the coordination of the study and manuscript preparation. FG was involved in the surgery and data analysis. All authors read and approved the final manuscript.
Abstract
Background
The coracoacromial ligament (CAL) is an important restraint to superior shoulder translation. CAL release with the Latarjet procedure leads to increased superior humeral translation. Therefore, a surgical technique was developed to reconstruct the CAL during a modified Latarjet procedure.
Methods
Between May 2010 and July 2011, six patients (five were male, one was female; age 23–41 years) with chronic post-traumatic anterior shoulder instability were treated surgically with a modified congruent-arc Latarjet procedure (modLAT) with additional reconstruction of the CAL using a newly developed procedure, the pectoralis minor fascia flap (PMFF). Clinical follow-up was performed for up to 36 months, and patients were evaluated using a Rowe score.
Results
All six patients experienced chronic, post-traumatic anterior shoulder instability and had experienced multiple re-dislocations after initial treatment. The preoperative assessment showed a defect of the anterior glenoid in three cases, and the mean Rowe score was 16.67 (5–25). Open modLAT with PMFF resulted in a stable shoulder function with no re-dislocations. The Rowe score increased from 77.5 (65–90) at 12 weeks to 95 (90–100) at 12 months and plateaued thereafter. Operative duration was 95 min (78–112 min), and there were no intra- or postoperative complications. All patients returned to their preoperative sports activity, three at the same level.
Conclusion
The PMFF is a safe technique for reconstruction of the CAL during a modLAT procedure. Patients had improved shoulder function and no re-dislocations after the surgery.