01.12.2019 | Study protocol | Ausgabe 1/2019 Open Access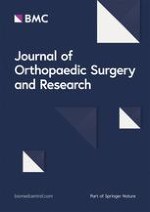 Recovery of knee extension and incidence of extension deficits following anterior cruciate ligament injury and treatment: a systematic review protocol
Zeitschrift:
Autoren:

Nalan Ektas, Corey Scholes, Selin Kulaga, Garry Kirwan, Binglong Lee, Christopher Bell
Abstract
Introduction
Knee extension deficit or loss of extension (LOE) is a potential complication following ACL reconstruction (ACLR); however, the change in postoperative knee extension during rehabilitation is not well defined. The aim of this review is to establish the trajectory of knee extension recovery and incidence of knee extension deficit during rehabilitation after ACL rupture.
Methods and analysis
A systematic search will be conducted in MEDLINE, Embase, Cochrane Library, Scopus, SPORTDiscus, and relevant trials databases of English language papers in publication as of May 2018, with no restrictions on publication year applied. References will be screened and assessed for eligibility by two independent reviewers as per the PRISMA guidelines. Cohort, cross-sectional or case-controlled studies will be included for the analysis. Data extraction will be conducted using a predefined template and quality of evidence assessed. Statistical summaries and meta-analyses will be performed as necessary.
Ethics and dissemination
This review will provide clearer definitions for the measurement and interpretation of postoperative knee extension and establish its natural history after ACL reconstruction. Evidence of the incidence and factors associated with loss of extension will be identified. The findings of this systematic review will be disseminated in peer-reviewed journals and presented at national/international conferences.
Trial registration
The protocol was registered on the PROSPERO international prospective register of systematic reviews prior to commencement (registration number
CRD42018092295
).