01.12.2018 | Research | Ausgabe 1/2018 Open Access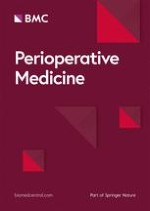 Recruitment of sublingual microcirculation using handheld incident dark field imaging as a routine measurement tool during the postoperative de-escalation phase—a pilot study in post ICU cardiac surgery patients
Zeitschrift:
Autoren:

Zühre Uz, Can Ince, Philippe Guerci, Yasin Ince, Renata P. Araujo, Bulent Ergin, Matthias P. Hilty, Thomas M. van Gulik, Bas A. de Mol
Abbreviations
AVA
Automated vascular analysis
CABG
Coronary artery bypass grafting
CRRT
Continuous renal replacement therapy
FCD
Functional capillary density
IAH
Intra-abdominal hypertension
MIAVR
Minimally invasive aortic valve replacement
OPS
Orthogonal polarizing spectral
PPV
Proportion of perfused vessels
RRT
Renal replacement therapy
TAVI
Transcatheter aortic valve
Background
In this pilot study, we introduced a potential new approach to postoperative patients by daily routine microcirculatory measurements during the de-escalation phase.
Methods
Patients
This prospective observational study was performed at the Academic Medical Center of the University of Amsterdam. Approval of the local Medical Ethical Review Committee (Reference number W15_076) was obtained. Patients were screened and informed during the preoperative period. The screening is applied by the ward doctor, and the patients are selected by the expectation to undergo diuretic (furosemide and/or spironolactone) therapy in the nursery ward. Non-consecutive patients who underwent cardiac surgery (ten patients with a 3-day follow-up: CABG
N
 = 5, aortic valve surgery
N
 = 4, combination CABG and aortic valve surgery
N
 = 1) and were discharged from the ICU to the cardiac surgery ward with the expectation of undergoing a diuretic (furosemide and/or spironolactone) therapy, between September and October 2015 were included. The exclusion criteria were age < 18 years; pregnancy; inability to consent due to mental disorder; having maxillofacial trauma or ear, nose, throat tumors; and early discharge (hospital stay shorter than 3 days) from the nursery ward.
Study design and measurements
After ICU discharge, sublingual microcirculatory measurements were performed in the cardiac surgery ward at three time points, within a few hours following ICU discharge (T0) and 24 h (T1) and 48 h (T2) after ICU discharge. For every time point, three image sequences at three different sublingual spots were recorded per patient by two trained professionals (ZU, YI). The mean of the three measurements is reported.
Sublingual microcirculatory measurements were performed using incident dark field (IDF) imaging (Cytocam™, Braedius Medical, Huizen, The Netherlands) (Gilbert-Kawai et al.
2016
). Each clip was recorded at 25 frames/s for 4 s at the bedside and underwent a scan for exclusion quality criteria (Massey et al.
2013
). The Cytocam-IDF is a third-generation handheld microscope that enables real-time in vivo visualization of the microcirculation. It consists of an illumination unit based on IDF imaging with a × 4 magnification lens. The illumination light is emitted with a short pulse time of 2 ms and a chosen wavelength of 548 nm, ensuring the highest absorption of oxyhemoglobin and deoxyhemoglobin, whereby red blood cells are visible within the vessels. The vessels that are not perfused will not be visible. The surrounding tissue mostly reflects light and is seen as a white area, allowing for a crystal clear identification of microcirculation (Gilbert-Kawai et al.
2016
). The pulsing illumination light is synchronized with a computer-controlled image sensor, enabling image projection on a monitor. The new technology was recently validated in the study by Aykut et al. (Aykut et al.
2015
), who compared Cytocam-IDF with Sidestream Dark-Field (SDF) imaging technology.
At time points T0, T1, and T2, hemodynamic parameters that are conventionally monitored in the cardiac surgery ward, such as heart rate, arterial blood pressure, and peripheral capillary oxygen saturation (SpO 2), were acquired. Blood samples for hemoglobin, creatinine, hematocrit, and leukocyte count were collected according to the cardiac surgery ward care protocol at time points T0 and T1. Patient weight was measured the day before the operation and on the second and third days after ICU discharge in the post-cardiac surgery ward. Body weight was not measured on the first day in the ward, as the patients were still bedbound. Cumulative fluid balances at the end of surgery and the ICU stay were acquired.
Measurements analysis
Following data collection, each video clip was assessed for adequate quality using the microcirculation image quality score proposed by Massey et al. (Massey et al.
2013
). Automated Vascular Analysis (AVA) software v3.2 (MicroVision Medical, Amsterdam, The Netherlands) (Dobbe et al.
2008
) was used to obtain microcirculatory parameters. Flow characteristics of the microvasculature were quantified using the microcirculatory flow index (MFI) according to the recommendations from the consensus on microcirculatory imaging by De Backer et al. (De Backer et al.
2007
). This index was calculated after the image was divided into four quadrants, and the predominant type of flow (absent = 0, intermittent = 1, sluggish = 2, abnormal = 3, and hyperdynamic = 4) was estimated in the vessels smaller than 25 μm by the operator (Boerma et al.
2005
). The final MFI score is a value obtained from the average score of the four areas. A quantitative measurement of the capillary density, the total vessel density (TVD; mm/mm
2
), was manually determined using AVA software. The proportion of perfused vessels (PPV; %) was automatically calculated by the software as the number of vessels with flow values of 2 and 3 divided by the total number of vessels. Perfused vessel density (PVD; mm/mm
2
) was determined as the total vessel density multiplied by the PPV. The PVD is used as a correct measure of FCD (De Backer et al.
2007
). All video clips were analyzed off-line by the investigators (ZU, RP).
Statistics
Statistical analysis was performed using GraphPad Prism 7.00 (GraphPad Software, La Jolla, CA, USA). A one-way analysis of variance was performed for microcirculatory parameters for a comparative analysis of the values obtained at each time point. Paired Student's
t
test was used to compare the parameters collected at only two time points. All data are presented as the mean ± SD and considered statistically significant given a two-sided
p
 < 0.05.
Result
Discussion
Our study suffered some shortcomings. First, being a pilot study, the small sample size does not necessarily allow to generalize the finding. Seventy-seven video clips were analyzed, and this sample size was sufficient to demonstrate a significant difference in microcirculatory density (TVD) and perfusion (PVD). Second, the assessment of microcirculation recordings requires offline analysis, operator experience, and training, making bedside use impractical for now. Finally, no specific parameters, such as the daily net fluid balance or bioelectrical impedance analysis, were available in the cardiac surgery ward. These parameters would have provided additional information on the body fluid status of the patients. In the future study, these parameters will be measured to prove the correlation between the increase in FCD and the de-escalation phase of the fluid management.
Conclusion
Cytocam-IDF imaging to monitor microcirculation as a daily parameter is feasible and could become a valuable tool to non-invasively assess the tissue oxygenation at the bedside. An increase in TVD and PVD (FCD) indicated the recruitment of the sublingual microcirculation. These findings suggest that IDF imaging may add to our understanding of the volume status in patients and could potentially guide clinicians in the management of the different fluid phases as proposed in several studies (Arnemann et al.
2016
; Ince
2015
; Malbrain et al.
2014
).
Acknowledgements
The authors thank S Eerbeek (Amsterdam Medical Center, Amsterdam, Netherlands) for his help with the patient recruitment. The authors also thank S Akin (Erasmus Medical Center, Rotterdam, Netherlands) for his critical evaluation of the manuscript.
Funding
The study was funded through internal departmental funds.
Availability of data and materials
The data and materials used in the present study are available on request from the corresponding author.
Ethics approval and consent to participate
The study was approved by the local Medical Ethical Review Committee (Reference number W15_076) at the Academic Medical Center of the University of Amsterdam. Ethical approval was granted according to the national requirements, and the need for written informed consent was waived. Oral informed consent was obtained from the patients prior to enrollment. The sublingual microcirculation measurements were introduced as an additional parameter to the daily nursery protocol, as previously described. These sublingual microcirculation measurements are rapidly performed and do not provide discomfort to the patients.
Competing interests
Dr. Ince has developed SDF imaging and is listed as an inventor on related patents commercialized by MicroVision Medical (MVM) under a license from the Academic Medical Center (AMC). He receives no royalties or benefits from this license. He has been a consultant for MVM in the past, but has not been involved with this company for more than 5 years now and holds no shares or stock. Braedius Medical, a company owned by a relative of Dr. Ince, has developed and designed a handheld microscope called CytoCam-IDF imaging. Dr. Ince has no financial relation with Braedius Medical of any sort, i.e., never owned shares or received consultancy or speaker fees from Braedius Medical. Dr. Ince runs an Internet site https.
microcirculation​academy.​org
which offers services (e.g., training, courses, analysis) related to clinical microcirculation. The other authors declare that they have no competing interests.
Publisher's Note
Springer Nature remains neutral with regard to jurisdictional claims in published maps and institutional affiliations.
Open Access
This article is distributed under the terms of the Creative Commons Attribution 4.0 International License (
http://​creativecommons.​org/​licenses/​by/​4.​0/​
), which permits unrestricted use, distribution, and reproduction in any medium, provided you give appropriate credit to the original author(s) and the source, provide a link to the Creative Commons license, and indicate if changes were made. The Creative Commons Public Domain Dedication waiver (
http://​creativecommons.​org/​publicdomain/​zero/​1.​0/​
) applies to the data made available in this article, unless otherwise stated.