01.12.2017 | Case Report | Ausgabe 1/2017 Open Access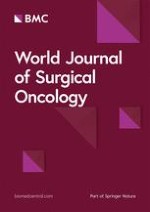 Rectal carcinoma and multiple gastrointestinal stromal tumors (GIST) of the small intestine in a patient with neurofibromatosis type 1: a case report
Zeitschrift:
Autoren:

Yuhei Hakozaki, Shinichi Sameshima, Teppei Tatsuoka, Takashi Okuyama, Yukinori Yamagata, Tamaki Noie, Masatoshi Oya, Akiko Fujii, Yoshihiko Ueda, Chieko Shimura, Kazumoto Katagiri
Abstract
Background
Neurofibromatosis type 1 (NF1) is an autosomally dominant inherited disorder characterized by multiple pigmented skin spots (
café-au-lait
spots) and neurofibroma. NF1 is associated with a wide variety of benign or malignant tumors. We report a NF1 patient who received surgical treatment for rectal carcinoma and multifocal small intestinal gastrointestinal stromal tumors (GISTs).
Case presentation
A 70-year-old female patient with NF1 was referred to our hospital after a positive fecal occult blood test. Locally advanced rectal carcinoma was detected in the upper rectum using colonoscopy. A submucosal tumor 20 mm in diameter was detected in the duodenal bulb during the upper gastrointestinal endoscopy. The biopsy specimen from the duodenum was GIST with positive immunostaining of KIT and CD34 microscopically. Laparoscopic low anterior resection for rectal carcinoma and local excision of the duodenal GIST were performed successfully. During the operation, five white small nodules were found on the serosa of the jejunum. One nodule was excised for histological examination. The resected rectal tumor was a well-differentiated adenocarcinoma with multiple lymph nodes metastases according to the histology. The duodenal tumor was found to be low-risk GIST. Moreover, the nodule from the jejunum was very low risk GIST. An excised skin wart was neurofibroma according to the histology.
Conclusions
GIST or carcinomas have been reported to occasionally occur in the digestive tract of the patients with NF1. We present a rare case of a NF1 patient with GISTs and colorectal carcinoma.