01.12.2019 | Case report | Ausgabe 1/2019 Open Access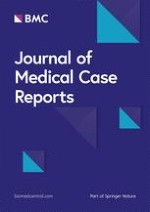 Recurrent retroperitoneal abscess after biliary tract surgery in an elderly patient: a minimally invasive nonsurgical approach and its consequences: a case report
Zeitschrift:
Autoren:

Vincenzo Davide Palumbo, Benedetto Di Trapani, Antonio Bruno, Mario Feo, Bernardo Molinelli, Simone Tomasini, Attilio Ignazio Lo Monte, Marianna Messina, Giovanni Tomasello
Abstract
Introduction
Hepatic abscess can be defined as an encapsulated collection of suppurative material within the liver parenchyma. Hepatic abscess can be distinguished as pyogenic, amebic, or fungal. Biliary tract disease remains the most common cause of hepatic abscess today, and the most common complications range from pleural effusion, empyema, and bronchohepatic fistula to subphrenic abscess and rupture into the peritoneal cavity, stomach, colon, vena cava, or kidney. A large abscess compressing the inferior vena cava and the hepatic veins may result in Budd-Chiari syndrome. In this report, we present a rare case of hepatic abscess with an unusual evolution that was treated with a noninvasive approach.
Case presentation
A 79-year-old Caucasian woman underwent endoscopic bile stone extraction and laparoscopic cholecystectomy. Six months later, a hepatic abscess in association with bilateral effusion was diagnosed. The prompt imaging-guided drainage solved the case. Three years later, she came to our attention complaining of dull, diffuse abdominal pain and high body temperature (38 °C). A retroperitoneal abscess was diagnosed that was spreading to the right lateral wall of the abdomen and extending across the muscular wall to the subcutaneous layer. The fluid collection also involved the right pleural cavity, forming an empyema. Also in this case, an imaging-guided drainage was performed, and the patient's clinical picture resolved in a few days. The retroperitoneal abscess recurred 14 months later, and it was dealt with using the same treatment. Three months from the last follow-up, the patient came back to our attention with an evident swelling of her right lumbar region. Computed tomography revealed a right inferior lumbar hernia comprising adipose tissue and the right kidney. A surgical intervention was recommended to the patient, but, owing to her poor general health, she refused any invasive approach.
Conclusions
Retroperitoneal abscess is an uncommon complication of biliary tract surgery and represents a potential cause of death, especially in those patients with multiple diseases. Prompt drainage is crucial to the treatment. Failure in eliminating the primary infective focus could bring complications and, in general, a weakness of lumbar muscular wall, even resulting in a rare case of lumbar hernia.