01.12.2018 | Research | Ausgabe 1/2018 Open Access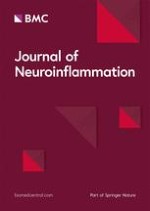 Reduced ex vivo release of pro-inflammatory cytokines and elevated plasma interleukin-6 are inflammatory signatures of post-stroke delirium
Zeitschrift:
Autoren:

Katarzyna Kowalska, Elzbieta Klimiec, Kazimierz Weglarczyk, Joanna Pera, Agnieszka Slowik, Maciej Siedlar, Tomasz Dziedzic
Abstract
Background
Experimental studies suggest that systemic inflammation contributes to the pathophysiology of delirium. The aim of our study was to determine blood-derived inflammatory signatures of post-stroke delirium.
Methods
We included 144 ischemic stroke patients. We assessed delirium on a daily basis during the first 7 days of hospitalization. Venous blood was collected at day 3 after the onset of stroke and stimulated ex vivo with lipopolysaccharide (LPS). We measured LPS-induced cytokine concentration (TNFα, IP-10, IL-1β, IL-6, IL-8, IL-10, and IL-12p70) as well as plasma levels of IL-6 and TNFα.
Results
Delirium was diagnosed in 21.5% of patients. After correction for monocyte count, patients with delirium had reduced LPS-induced TNFα, IP-10, IL-1β, IL-6, and IL-12 release. The plasma IL-6 level was higher in delirious patients compared to patients without delirium. After adjusting for stroke severity and infections, higher ex vivo TNFα (OR 0.29, 95%CI 0.11–0.72,
P
 = 0.01), IP-10 (OR 0.25, 95%CI 0.08–0.73,
P
 = 0.01), IL-1β (OR 0.42, 95%CI 0.20–0.89,
P
 = 0.02), and IL-12 (OR 0.07, 95%CI 0.01–0.70,
P
 = 0.02) release was associated with the reduced risk of delirium. In multivariate analysis, the higher plasma IL-6 was associated with the increased risk of delirium (OR 1.61, 95%CI 1.00–2.58,
P
 = 0.04).
Conclusions
Reduced ex vivo release of pro-inflammatory cytokines after LPS stimulation and the elevated plasma IL-6 are signatures of post-stroke delirium.