28.09.2020 | Original Article | Ausgabe 1/2021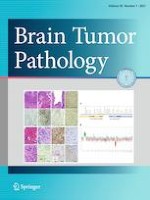 Reduced H3K27me3 levels in diffuse gliomas: association with 1p/19q codeletion and difference from H3K27me3 loss in malignant peripheral nerve sheath tumors
Zeitschrift:
Autoren:

Keiichiro Kitahama, Shohei Iijima, Ayumi Sumiishi, Akimasa Hayashi, Kiyotaka Nagahama, Kuniaki Saito, Nobuyoshi Sasaki, Keiichi Kobayashi, Saki Shimizu, Motoo Nagane, Junji Shibahara
Wichtige Hinweise
Electronic supplementary material
Keiichiro Kitahama and Shohei Iijima contributed equally to this work.
Publisher's Note
Springer Nature remains neutral with regard to jurisdictional claims in published maps and institutional affiliations.
Abstract
Trimethylation of histone H3 at lysine 27 (H3K27me3) acts as a transcriptional repressor of target genes. Recent immunohistochemical studies have reported a loss of H3K27me3 modification in diffuse (especially 1p/19q-codeleted) gliomas. However, we did not observe H3K27me3 loss in diffuse gliomas using routine immunostaining conditions for the detection of H3K27me3 loss in malignant peripheral nerve sheath tumors (MPNSTs). Therefore, we conducted immunohistochemical analysis of surgically resected specimens to understand the differences in the H3K27me3 status in MPNSTs and diffuse gliomas and evaluate the diagnostic utility of H3K27me3 immunohistochemistry. Staining with a standard 1:200 dilution of the C36B11 antibody showed a complete loss of H3K27me3 in 5 out of 11 MPNSTs, whereas most diffuse gliomas (149/151, 98.7%) showed diffuse immunoreactivity. At a 1:2000 antibody dilution, 12.6% (19/151) of the diffuse gliomas showed H3K27me3 loss, which was significantly associated with 1p/19q codeletion (
P
 < 0.001). H3K27me3 loss predicted 1p/19q codeletion in IDH-mutant gliomas with lower sensitivity (56.2%) and higher specificity (100%) than ATRX retention or p53 negative result. In conclusion, reduction in H3K27me3 levels was associated with 1p/19q codeletion in diffuse gliomas; however, the extent of reduction differed from that in MPNSTs, and the results depended on the immunostaining conditions.