01.01.2012 | General Gynecology | Ausgabe 1/2012 Open Access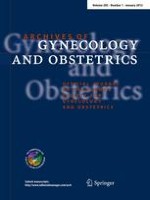 Reduced pelvic pain in women with endometriosis: efficacy of long-term dienogest treatment
Zeitschrift:
Autoren:

Felice Petraglia, Daniela Hornung, Christian Seitz, Thomas Faustmann, Christoph Gerlinger, Stefano Luisi, Lucia Lazzeri, Thomas Strowitzki
Wichtige Hinweise
Data from this study have been presented, in part, at the XIX FIGO World Congress of Gynecology and Obstetrics, Cape Town, South Africa, October 4–9, 2009, and the American Society for Reproductive Medicine 65th Annual Meeting, Atlanta, GA, USA, October 17–21, 2009.
Abstract
Purpose
To investigate the efficacy and safety of dienogest as a long-term treatment in endometriosis, with follow-up after treatment discontinuation. The study included women with endometriosis, who had previously completed a 12-week, placebo-controlled study of dienogest, who participated in an open-label extension study for up to 53 weeks. Thereafter, a patient subgroup was evaluated in a 24-week follow-up after treatment discontinuation.
Methods
A multicenter study performed in Germany, Italy and Ukraine. Women with endometriosis were enrolled at completion of the placebo-controlled study (
n
= 168). All women received dienogest (2 mg once daily, orally) and changes in pelvic pain (on a visual analog scale), bleeding pattern, adverse events and laboratory parameters were evaluated during and after treatment.
Results
The completion rate among women who entered the open-label extension study was 90.5% (
n
= 152). A significant decrease in pelvic pain was shown during continued dienogest treatment (
P
< 0.001). The mean frequency and intensity of bleeding progressively decreased. Adverse events, rated generally mild or moderate, led to withdrawal in four patients (2.4%). No clinically relevant changes in laboratory parameters were observed. During treatment-free follow-up (
n
= 34), the reduction in pelvic pain persisted, while bleeding frequency and intensity returned to normal patterns.
Conclusions
Long-term dienogest showed a favorable efficacy and safety profile, with progressive decreases in pain and bleeding irregularities during continued treatment; the decrease of pelvic pain persisted for at least 24 weeks after treatment cessation.