Erschienen in: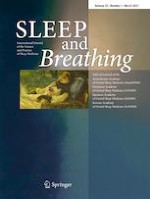 10.06.2020 | Sleep Breathing Physiology and Disorders • Original ArticleSleep Breathing Physiology and Disorders • Original Article
Reducing cost and time to diagnosis and treatment of obstructive sleep apnea using ambulatory sleep study: a Singapore sleep centre experience
Erschienen in: Sleep and Breathing | Ausgabe 1/2021
Einloggen, um Zugang zu erhalten
Abstract
Purpose
The current gold standard for diagnosis of obstructive sleep apnea (OSA) is overnight in laboratory polysomnography (PSG). However, PSGs are expensive, labor-intensive, and have long wait times. An ambulatory sleep study device, the WatchPAT, has been shown to have high correlation for sleep indices measured compared with PSG (AASM, 2016). Use of the WatchPAT could potentially lead to shorter waiting times and earlier diagnosis of OSA (Lancet Resp Med 3:310–8, 2015). Our study aimed to investigate if WatchPAT reduces time to diagnosis and treatment of OSA in a tertiary healthcare setting. A secondary aim was to investigate the cost-benefit of an ambulatory sleep study.
Methods
All patients who underwent diagnostic sleep studies in a single tertiary institution from 2014 to 2017 were retrospectively reviewed. Baseline characteristics and time from ordering of sleep study to prescription of continuous positive airway pressure were recorded. Data were categorized into two groups by type of diagnostic sleep study, PSG, and WatchPAT. The time to treatment and cost for diagnosis of OSA were compared between groups with the Paired
T
test/Wilcoxon signed-rank test.
Results
Of 1898 patients who had diagnostic sleep studies over a 4-year period, 1660 patients (88%) underwent PSG and 238 patients (12%) underwent WatchPAT. Patients in the WatchPAT group had a shorter time to diagnosis (21 days versus 79.8 days,
p
< 0.001) and treatment (46.3 days versus 118.4 days,
p
< 0.001) compared to the PSG group. Cost-benefit calculation showed that this earlier treatment led to cost-saving of US $1179.50 per patient.
Conclusion
An ambulatory sleep study is an option for earlier access to diagnosis and treatment of OSA with the potential of considerable cost savings.