20.10.2018 | Original Research | Ausgabe 2/2019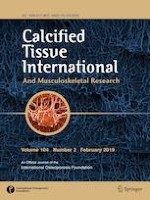 Reduction of Hip and Other Fractures in Patients Receiving Teriparatide in Real-World Clinical Practice: Integrated Analysis of Four Prospective Observational Studies
Zeitschrift:
Autoren:

Stuart Silverman, Bente L. Langdahl, Saeko Fujiwara, Ken Saag, Nicola Napoli, Satoshi Soen, Hiroyuki Enomoto, Thomas E. Melby, Damon P. Disch, Fernando Marin, John H. Krege
Wichtige Hinweise
Electronic supplementary material
Abstract
The phase 3 teriparatide Fracture Prevention Trial showed significant reductions in vertebral (VF) and nonvertebral (NVF) fractures; however, patient exposure was insufficient for full analysis of low-incidence fractures, including hip. We assessed fracture results in pooled data from four prospective, observational teriparatide studies. Ambulatory women and men with osteoporosis received subcutaneous teriparatide 20 µg/day for up to 24 months per routine clinical practice. Fracture rates were compared between 6-month periods, using 0 to 6 months of treatment as the reference period. Analyses used a piecewise exponential model for first fracture. Hip, NVF, clinical VF (CVF), any clinical, and wrist fractures were assessed. For 8828 patients analyzed, mean age was 71 years; mean (SD) treatment duration was 17.4 (8.6) months. The rate of hip fracture decreased significantly for the > 12 to 18-month (− 47.7%) and > 18-month periods (-85.2%) versus the first 6 months of therapy, and for the > 18 versus the > 6 to 12-month period. NVF, CVF, and all clinical fractures were all significantly decreased in each post-reference period, with maximum decreases (> 18-month period) of 52.7%, 69.4%, and 61.2%, respectively, versus 0 to 6 months. No significant reduction was seen for rates of wrist fracture. Teriparatide treatment was associated with statistically significant decreases in hip fracture rate, particularly for > 18 months of treatment, and in NVF, CVF, and all clinical fracture rate in real-world patients. These results should be interpreted in the context of the non-controlled design of the source studies.