01.12.2018 | Research article | Ausgabe 1/2018 Open Access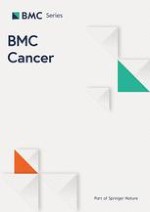 Reduction of MHC-I expression limits T-lymphocyte-mediated killing of Cancer-initiating cells
Zeitschrift:
Autoren:

Brian J. Morrison, Jason C. Steel, John C. Morris
Wichtige Hinweise
Electronic supplementary material
Abstract
Background
It has been proposed that cancer establishment, maintenance, and recurrence may be attributed to a unique population of tumor cells termed cancer-initiating cells (CICs) that may include characteristics of putative cancer stem cell-like cells. Studies in lung cancer have shown that such cells can be enriched and propagated in vitro by culturing tumor cells in serum-free suspension as tumorspheres. CICs have been characterized for their phenotype, stem cell-like qualities, and their role in establishing tumor and maintaining tumor growth. Less is known about the interaction of CICs with the immune system.
Methods
We established CIC-enriched tumorspheres from murine TC-1 lung cancer cells, expressing human papillomavirus 16 (HPV-16) E6/E7 antigens, and evaluated their susceptibility to antitumor immune responses both in vitro and in vivo.
Results
TC-1 CICs demonstrated reduced expression of surface major histocompatibility complex (MHC)-I molecules compared to non-CICs. We similarly determined decreased MHC-I expression in five of six human lung cancer cell lines cultured under conditions enriching for CICs. In vivo
,
TC-1 cells enriched for CICs were resistant to human papillomavirus 16 E6/E7 peptide vaccine-mediated killing. We found that vaccinated mice challenged with CIC enriched tumorspheres demonstrated shorter survivals and showed significantly fewer CD8
+
tumor infiltrating lymphocytes compared to CIC non-enriched challenged mice. Furthermore, cultured cytotoxic T lymphocytes (CTLs) from vaccinated mice demonstrated reduced capacity to lyse TC-1 cells enriched for CICs compared to non-enriched TC-1 cells. Following treatment with IFN-γ, both CIC enriched and non-enriched TC-1 cells expressed similar levels of MHC-I, and the increased MHC-I expression on CICs resulted in greater CTL-mediated tumor lysis and improved tumor-free survival in mice.
Conclusions
These results suggest that the attenuated expression of MHC-I molecules by CICs represents a potential strategy of CICs to escape immune recognition, and that the development of successful immunotherapy strategies targeting CICs may decrease their resistance to T cell-mediated immune detection by enhancing CIC MHC-I expression.