01.12.2012 | Original investigation | Ausgabe 1/2012 Open Access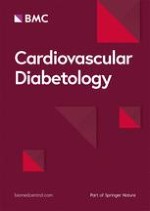 Reduction of n-3 PUFAs, specifically DHA and EPA, and enhancement of peroxisomal beta-oxidation in type 2 diabetic rat heart
Zeitschrift:
Autoren:

Lianguo Hou, Kaoqi Lian, Min Yao, Yun Shi, Xin Lu, Lijia Fang, Tianbo He, Lingling Jiang
Wichtige Hinweise
Electronic supplementary material
The online version of this article (doi:
10.​1186/​1475-2840-11-126
) contains supplementary material, which is available to authorized users.
Competing interests
The authors declare that they have no competing interests.
Authors' contributions
LGH was the principal investigator, involved in designing the study, performing the quantitative real-time PCR assays and writing the manuscript. KQL carried out and analyzed capillary gas chromatography assays. MY and YS helped to perform statistical analyses and write parts of the manuscript. XL, LJF and TBH participated in experiments in vivo and performed the fatty acid beta-oxidation activity assays. LLJ designed and supervised the study as well as helped to draft the manuscript. All authors read and approved the final manuscript.
Abstract
Background
There is overwhelming evidence that dietary supplementation with n-3 polyunsaturated fatty acids (PUFAs), mainly EPA (C20:5n-3) and DHA (C22:6n-3), has cardiovascular protective effects on patients with type 2 diabetes mellitus (T2DM) but not on healthy people. Because the T2DM heart increases fatty acid oxidation (FAO) to compensate for the diminished utilization of glucose, we hypothesize that T2DM hearts consume more n-3 PUFAs and, therefore, need more n-3 PUFAs. In the present study, we investigated the changes in cardiac n-3 PUFAs and peroxisomal beta-oxidation, which are responsible for the degradation of PUFAs in a high-fat diet (HFD) and low-dose streptozotocin- (STZ) induced type 2 diabetic rat model.
Methods and results
The capillary gas chromatography results showed that all the n-3 (or omega-3) PUFAs, especially DHA (~50%) and EPA (~100%), were significantly decreased, and the n-6/n-3 ratio (~115%) was significantly increased in the hearts of diabetic rats. The activity of peroxisomal beta-oxidation, which is crucial to very-long-chain and unsaturated FA metabolism (including DHA), was significantly elevated in DM hearts. Additionally, the real-time PCR results showed that the mRNA expression of most peroxisomal beta-oxidation key enzymes were up-regulated in T2DM rat hearts, which might contribute to the reduction of n-3 (or omega-3) PUFAs.
Conclusion
In conclusion, our results indicate that T2DM hearts consume more n-3 PUFAs, especially DHA and EPA, due to exaggerated peroxisomal beta-oxidation.