01.10.2006 | Original Article | Ausgabe 5/2006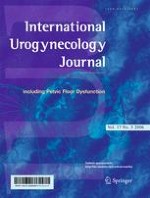 Reductions in overactive bladder-related incontinence from pooled analysis of phase III trials evaluating treatment with solifenacin
Zeitschrift:
Autoren:

Linda Cardozo, David Castro-Diaz, Marc Gittelman, Arwin Ridder, Moses Huang
Abstract
The embarrassment and social stigma associated with urinary incontinence (UI) in overactive bladder syndrome (OAB) sufferers is a major reason for individuals to seek help for their condition. An analysis of 1,873 subjects with OAB with UI was conducted to assess the efficacy of solifenacin in reducing incontinence in a pooled population from four phase III clinical trials, stratified by severity of incontinence, urgency, and other key factors at baseline. Subjects were randomized to either 5 or 10 mg of solifenacin once daily or placebo for 12 weeks. More than 50% of the total population became continent at study end, with either dose of solifenacin (
P
<0.01 vs placebo). Significant reductions in incontinence episodes and higher rates of attainment of continence vs placebo were observed irrespective of age or severity of incontinence or urgency at baseline with solifenacin treatment. Treatment was well tolerated, with the majority of adverse events being mild in nature. Solifenacin is an effective antimuscarinic agent for the treatment of incontinence associated with OAB.