01.12.2017 | Research | Ausgabe 1/2017 Open Access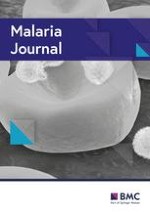 Reemergence of chloroquine-sensitive
pfcrt

K76

Plasmodium falciparum

genotype in southeastern Cameroon
Zeitschrift:
Autoren:

Nicaise Tuikue Ndam, Leonardo K. Basco, Vincent Foumane Ngane, Ahidjo Ayouba, Eitel Mpoudi Ngolle, Philippe Deloron, Martine Peeters, Rachida Tahar
Abstract
Background
Chloroquine had been used extensively during the last five decades in Cameroon. Its decreasing clinical effectiveness, supported by high proportions of clinical isolates carrying the mutant
pfcrt
haplotype (CVIET), led the health authorities to resort to amodiaquine monotherapy in 2002 and artemisinin-based combination therapy (ACT) in 2004 (artesunate–amodiaquine, with artemether–lumefantrine as an alternative since 2006) as the first-line treatment of uncomplicated malaria. The aim of the present study was to investigate whether the withdrawal of chloroquine was associated with a reduction in
pfcrt
mutant parasite population and reemergence of chloroquine-sensitive parasites in southeastern Cameroon between 2003 and 2012.
Methods
The frequency of
pfcrt
haplotypes at positions 72–76 in
Plasmodium falciparum
isolates collected from individuals in 2003 and 2012 in southeastern Cameroon was determined by sequence specific oligonucleotide probes-enzyme linked immunosorbent assay (SSOP-ELISA).
Results
The proportions of parasites carrying the mutant haplotype CVIET and the wild-type CVMNK were 53.0 and 28.0% in 2003, respectively. The proportion of the mutant haplotype in samples collected 9 years later decreased to 25.3% whereas the proportion of parasites carrying the wild-type CVMNK haplotype was 53.7%.
Conclusions
Even though the proportion of chloroquine-sensitive parasites seems to be increasing in southeastern Cameroon, a reintroduction of chloroquine cannot be recommended at present in Cameroon. The current national anti-malarial drug policy should be implemented and reinforced to combat drug-resistant malaria.