01.12.2017 | Research article | Ausgabe 1/2017 Open Access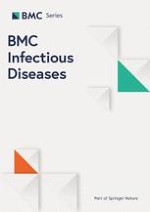 Reemergence of yellow fever in Ethiopia after 50 years, 2013: epidemiological and entomological investigations
Zeitschrift:
Autoren:

Abrham Lilay, Negga Asamene, Abyot Bekele, Mesfin Mengesha, Milliyon Wendabeku, Israel Tareke, Abiy Girmay, Yonas Wuletaw, Abate Adossa, Yamar Ba, Amadou Sall, Daddi Jima, Debritu Mengesha
Abstract
Background
Yellow Fever (YF) is a viral hemorrhagic disease transmitted by
aedes mosquito
species. Approximately, 200,000 cases and 30,000 deaths occur worldwide every year. In Ethiopia, the last outbreak was reported in 1966 with 2200 cases and 450 deaths. A number of cases with deaths from unknown febrile illness reported from South Ari district starting from November 2012. This investigation was conducted to identify the causative agent, source of the outbreak and recommend appropriate interventions.
Methods
Medical records were reviewed and Patients and clinicians involved in managing the case were interviewed. Descriptive data analysis was done by time, person and place. Serum samples were collected for serological analysis it was done using Enzyme-linked Immunosorbent Assay for initial screening and confirmatory tests were done using Plaque Reduction and Neutralization Test. Breteau and container indices were used for the entomological investigation to determine the risk of epidemic.
Results
A total of 141 Suspected YF cases with 43 deaths (CFR = 30.5%) were reported from November 2012 to October 2013 from South Omo Zone. All age groups were affected (mean 27.5, Range 1–75 Years). Of the total cases, 85.1% cases had jaundice and 56.7% cases had fever. Seven of the 21 samples were IgM positive for YF virus.
Aedes bromeliae
and
Aedes aegypti
were identified as responsible vectors of YF in affected area. The Breteau indices of Arkisha and Aykamer Kebeles were 44.4% and 33.3%, whereas the container indices were 12.9% and 22.2%, respectively.
Conclusion
The investigation revealed that YF outbreak was reemerged after 50 years in Ethiopia. Vaccination should be given for the affected and neighboring districts and Case based surveillance should be initiated to detect every case.