05.11.2018 | Neuro-ophthalmology | Ausgabe 2/2019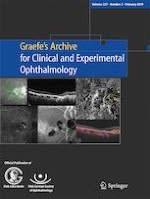 Refractive adaptation and efficacy of occlusion therapy in untreated amblyopic patients aged 12 to 40 years
Autoren:

Brigitte Simonsz-Tóth, Maurits V. Joosse, Dorothea Besch
Wichtige Hinweise
Electronic supplementary material
Abstract
Purpose
Since neurophysiological and clinical trials have shown evidence for plasticity in the adult visual system, the upper age limit for amblyopia treatment is not rigid. The aim of this study was to investigate the efficacy of occlusion therapy and refractive adaptation in untreated amblyopic patients 12 to 40 years of age.
Methods
In a prospective study, all patients had full orthoptic and ophthalmic assessment including cycloplegic retinoscopy. Patients with a newly prescribed optical correction underwent an 18-week refractive adaptation. All patients were treated with occlusion for 3 h a day for 18 weeks. Acuity gain and responder rates (≥ 0.2 log units) were calculated. The rate of recurrence (visual acuity 9 months after end of the occlusion therapy; ≥ 0.2 log units) and the acuity gain after refractive adaptation were determined. Self-reported compliance to occlusion therapy was assessed.
Results
Median age of patients (
n
 = 24) was 32.4 years (IQR 19.2). Best corrected visual acuity at start of occlusion therapy was 0.35 logMAR (IQR 0.5) and 0.30 (IQR 0.4) logMAR at the end of occlusion therapy, an acuity gain of 0.05 logMAR (
P
 = 0.004). Six (25%) patients had an acuity gain of at least 0.2 logMAR units. Reading acuity was improved from 0.4 logMAR (IQR 0.4) to 0.3 logMAR (IQR 0.4) (
P
 = 0.004).
Visual acuity was stable 9 months after occlusion therapy. The acuity gain after 18 weeks of refractive adaptation was 0.05 logMAR (
P
 = 0.238,
n
 = 8). Acuity gain by correcting refractive errors was 0.25 logMAR (
P
 = 0.006). Twenty-one (92%) of 24 patients achieved full recording in the calendar. Overall compliance was 17% (IQR 38). Only 5 out of 22 (23%) had acceptable compliance (≥ 50%) to occlusion therapy. Improvement of visual acuity was significantly better in patients with at least 50% compliance (
P
 = 0.013). Compliance was worse in non-native patients than in native patients (
P
 = 0.022).
Conclusions
In adulthood, compliance to occlusion therapy is even more challenging than in children. Noncompliance is the main reason for treatment failure. Only a few patients with acceptable compliance to occlusion therapy had a small but significant improvement of visual acuity. The results suggest that some adults with amblyopia retain a degree of cortical plasticity. We found that untreated adult amblyopic patients did not wear optical correction on the amblyopic eye. The highest treatment benefit was achieved by correcting refractive errors prior to following period of refractive adaptation.