01.12.2021 | Research article | Ausgabe 1/2021 Open Access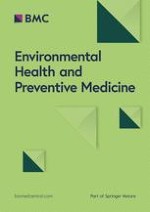 Regional-level risk factors for severe hand-foot-and-mouth disease: an ecological study from mainland China
Zeitschrift:
Autoren:

Qing Pan, Fengfeng Liu, Juying Zhang, Xing Zhao, Yifan Hu, Chaonan Fan, Fan Yang, Zhaorui Chang, Xiong Xiao
Wichtige Hinweise
Supplementary Information
Publisher's Note
Springer Nature remains neutral with regard to jurisdictional claims in published maps and institutional affiliations.
Abbreviations
CDC
Center for Disease Control
HFMD
Hand-foot-and-mouth disease
Introduction
Hand-foot-and-mouth disease (HFMD) is a contagious disease caused by the enterovirus. Most cases of HFMD are mild and self-limited, but a small proportion could further develop to severe complications affecting the central nervous systems [
1
,
2
]. Due to its rapid progression and the lack of effective antiviral medications [
3
‐
5
], the prognosis of severe HFMD cases is usually poor [
6
,
7
]. Patients often suffer due to high medical expenses [
8
] and poor quality of life [
9
]. Enterovirus A71 (EV-A71) has been shown to be the dominant pathogen causing severe HFMD [
1
,
10
]. Approximately 80% and 95% of severe and fatal cases test positive for EV-A71, respectively [
1
,
11
]. However, among the EV-A71 infected cases, only 23.88% and 1.89% develop into severe and fatal cases [
12
], implying that there still remain other unidentified risk factors for severe HFMD.
The overwhelming majority of prior studies mainly focused on examining the associations between severe HFMD and individual-level risk factors, such as individual demographic characteristics, early clinical manifestations, and genetic susceptibility. It has been found that younger [
13
] and male sex [
14
] were more vulnerable to severe HFMD, while breastfeeding and hand washing after playing [
15
] were found to be protective. Clinical manifestations including high fever, vomiting, myoclonic twitching, and elevated serum interleukins and interferon-γ levels were found to be early indicators of severe cases [
16
]. The presence of the rs4290270 SNP in the TPH2 gene was associated with increased susceptibility to severe HFMD [
17
].
Although those above individual-level studies have provided important insights for identifying high-risk individuals from a clinical perspective, there is still an urgent need to clarify the associations between regional-level risk factors and severe HFMD. This would provide a deeper understanding of why severe HFMD cases are more likely to occur in specific regions, and then provide evidences on how to better control severe HFMD from a public health perspectives. To the best of our knowledge, rare studies have paid special attention to the associations between regional-level risk factors and severe HFMD [
18
‐
21
]. Only a few studies sporadically reported higher population density [
21
], rural living [
18
], and lower socioeconomic status [
18
] would raise the epidemic of severe HFMD. In fact, there were remaining other regional-level factors should be considered when estimating their impact on epidemic of severe HFMD, such as medical resource allocation, meteorological features, GDP, and population scale. Notably, previous studies were mainly limited in a specific province, and a nationwide study covering multidimensional factors is still in lack.
Therefore, to address the above research gap, we conducted this nationwide study including 143 prefectural-level cities and abundant city-level characteristics to identify regional-level risk factors for the severe HFMD.
Methods
Results
Discussion
Using nationwide data on severe HFMD, we observed the city-specific characteristics were related to regional differences in the case-severity rate. Our main findings suggest that beyond the type of infected pathogen, attention to social and environmental factors is necessary for controlling epidemics of severe HFMD. In addition, based on the spatial distribution of the case-severity rate and incidence, we found that areas of high HMFD incidence were mainly in the Pearl River Delta and South China, while areas of high case-severity rates were mainly located in Central China.
This study had two major strengths. First, this is a city-level study. Unlike the individual-level studies focusing on the diagnosis and treatment of clinical cases, results from the current study are crucial for public health decision-making. Second, this is a nationwide study with multiple covariates, which can provide a stable estimation on the associations between case-severity rate and city-specific characteristics.
Conclusion
In conclusion, the case-severity rate is an indicator of severe HFMD disease burden, unlike the incidence of HFMD, which is mainly affected by enterovirus, meteorological factors, and population density. The case-severity rate was closely related to medical resource allocation and the level of city development. Enhancing the medical resource allocation and improving it accessibility among rural population might result in improved disease prevention and control.
Acknowledgements
The authors thank the Chinese Center for Disease Control and Prevention for providing data.
Ethics approval and consent to participate
Not applicable.
Consent for publication
Not applicable.
Competing interests
The authors declare no conflicts of interest.
Open Access
This article is licensed under a Creative Commons Attribution 4.0 International License, which permits use, sharing, adaptation, distribution and reproduction in any medium or format, as long as you give appropriate credit to the original author(s) and the source, provide a link to the Creative Commons licence, and indicate if changes were made. The images or other third party material in this article are included in the article's Creative Commons licence, unless indicated otherwise in a credit line to the material. If material is not included in the article's Creative Commons licence and your intended use is not permitted by statutory regulation or exceeds the permitted use, you will need to obtain permission directly from the copyright holder. To view a copy of this licence, visit
http://​creativecommons.​org/​licenses/​by/​4.​0/​
. The Creative Commons Public Domain Dedication waiver (
http://​creativecommons.​org/​publicdomain/​zero/​1.​0/​
) applies to the data made available in this article, unless otherwise stated in a credit line to the data.
Publisher's Note
Springer Nature remains neutral with regard to jurisdictional claims in published maps and institutional affiliations.