20.04.2018 | Original article | Ausgabe 6/2018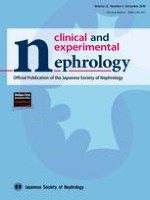 Regional variations in immunosuppressive therapy in patients with primary nephrotic syndrome: the Japan nephrotic syndrome cohort study
Zeitschrift:
Autoren:

Ryohei Yamamoto, Enyu Imai, Shoichi Maruyama, Hitoshi Yokoyama, Hitoshi Sugiyama, Kosaku Nitta, Tatsuo Tsukamoto, Shunya Uchida, Asami Takeda, Toshinobu Sato, Takashi Wada, Hiroki Hayashi, Yasuhiro Akai, Megumu Fukunaga, Kazuhiko Tsuruya, Kosuke Masutani, Tsuneo Konta, Tatsuya Shoji, Takeyuki Hiramatsu, Shunsuke Goto, Hirofumi Tamai, Saori Nishio, Arimasa Shirasaki, Kojiro Nagai, Kunihiro Yamagata, Hajime Hasegawa, Hidemo Yasuda, Shizunori Ichida, Tomohiko Naruse, Kei Fukami, Tomoya Nishino, Hiroshi Sobajima, Satoshi Tanaka, Toshiyuki Akahori, Takafumi Ito, Terada Yoshio, Ritsuko Katafuchi, Shouichi Fujimoto, Hirokazu Okada, Eiji Ishimura, Junichiro James Kazama, Keiju Hiromura, Tetsushi Mimura, Satashi Suzuki, Yosuke Saka, Tadashi Sofue, Yusuke Suzuki, Yugo Shibagaki, Kiyoki Kitagawa, Kunio Morozumi, Yoshiro Fujita, Makoto Mizutani, Takashi Shigematsu, Naoki Kashihara, Hiroshi Sato, Seiichi Matsuo, Ichiei Narita, Yoshitaka Isaka
Wichtige Hinweise
Electronic supplementary material
Abstract
Background
The lack of high-quality clinical evidences hindered broad consensus on optimal therapies for primary nephrotic syndromes. The aim of the present study was to compare prevalence of immunosuppressive drug use in patients with primary nephrotic syndrome across 6 regions in Japan.
Methods
Between 2009 and 2010, 380 patients with primary nephrotic syndrome in 56 hospitals were enrolled in a prospective cohort study [Japan Nephrotic Syndrome Cohort Study (JNSCS)], including 141, 151, and 38 adult patients with minimal change disease (MCD), membranous nephropathy (MN), and focal segmental glomerulosclerosis (FSGS), respectively. Their clinical characteristics were compared with those of patients registered in a large nationwide registry of kidney biopsies [Japan Renal Biopsy Registry (J-RBR)]. The regional prevalence of use of each immunosuppressive drug was assessed among adult MCD, MN, and FSGS patients who underwent immunosuppressive therapy in the JNSCS (
n
 = 139, 127, and 34, respectively). Predictors of its use were identified using multivariable-adjusted logistic regression models.
Results
The clinical characteristics of JNSCS patients were comparable to those of J-RBR patients, suggesting that the JNSCS included the representatives in the J-RBR. The secondary major immunosuppressive drugs were intravenous methylprednisolone [
n
 = 33 (24.6%), 24 (19.7%), and 9 (28.1%) in MCD, MN, and FSGS, respectively] and cyclosporine [
n
 = 25 (18.7%), 62 (50.8%), and 16 (50.0%), respectively]. The region was identified as a significant predictor of use of intravenous methylprednisolone in MCD and MN patients.
Conclusion
Use of intravenous methylprednisolone for MCD and MN differed geographically in Japan. Its efficacy should be further evaluated in a well-designed trial.