08.04.2019 | Review | Ausgabe 3/2019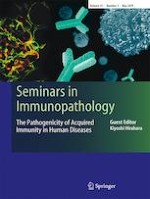 Regulation of T cell differentiation and function by epigenetic modification enzymes
Zeitschrift:
Autoren:

Huicheng Liu, Pingfei Li, Zhengping Wei, Cai Zhang, Minghui Xia, Qiuyang Du, Yufei Chen, Na Liu, Huabin Li, Xiang-Ping Yang
Wichtige Hinweise
This article is a contribution to the special issue on The Pathogenicity of Acquired Immunity in Human Diseases - Guest Editor: Kiyoshi Hirahara
Publisher's note
Springer Nature remains neutral with regard to jurisdictional claims in published maps and institutional affiliations.
Abstract
Peripheral naive CD4+ and CD8+ cells are developed in the thymus and proliferate and differentiate into various specialized T cell subsets upon activation by peptide-major histocompatibility complexes in periphery to execute different functions during immune responses. Cytokines, transcription factors, and a large number of intracellular molecules have been shown to affect T cell development, activation, and function. In addition, epigenetic modifications, such as histone modification and DNA methylation, regulate T cell biology. The epigenetic modifications are regulated by a range of DNA methyltransferases, DNA demethylation enzymes, and histone modification enzymes. Dysregulations of epigenetic modifications are closely associated with autoimmune diseases and tumorigenesis. Here, we review the current literature about the functions of DNA and histone modification enzymes in T cell development, activation, differentiation, and function.