01.12.2015 | Review | Ausgabe 1/2015 Open Access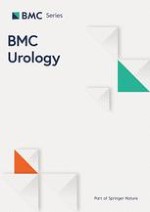 Regulation of urinary bladder function by protein kinase C in physiology and pathophysiology
Zeitschrift:
Autoren:

Joseph A. Hypolite, Anna P. Malykhina
Wichtige Hinweise
Competing interests
The authors declare that they have no competing interests.
Authors' contributions
JAH - conception and design, analysis and interpretation of the data, drafting of the manuscript. APM - general supervision, critical revision for intellectual content. All authors have made a significant contribution to the paper, and have read and approved the final draft.
Abstract
Background
Protein kinase C (PKC) is expressed in many tissues and organs including the urinary bladder, however, its role in bladder physiology and pathophysiology is still evolving. The aim of this review was to evaluate available evidence on the involvement of PKC in regulation of detrusor contractility, muscle tone of the bladder wall, spontaneous contractile activity and bladder function under physiological and pathophysiological conditions.
Methods
This is a non-systematic review of the published literature which summarizes the available animal and human data on the role of PKC signaling in the urinary bladder under different physiological and pathophysiological conditions. A wide PubMed search was performed including the combination of the following keywords: "urinary bladder", "PKC", "detrusor contractility", "bladder smooth muscle", "detrusor relaxation", "peak force", "detrusor underactivity", "partial bladder outlet obstruction", "voltage-gated channels", "bladder nerves", "PKC inhibitors", "PKC activators". Retrieved articles were individually screened for the relevance to the topic of this review with 91 citations being selected and included in the data analysis.
Discussion
Urinary bladder function includes the ability to store urine at low intravesical pressure followed by a subsequent release of bladder contents due to a rapid phasic contraction that is maintained long enough to ensure complete emptying. This review summarizes the current concepts regarding the potential contribution of PKC to contractility, physiological voiding, and related signaling mechanisms involved in the control of both the storage and emptying phases of the micturition cycle, and in dysfunctional voiding. Previous studies linked PKC activation exclusively with an increase in generation of the peak force of smooth muscle contraction, and maximum force generation in the lower urinary tract. More recent data suggests that PKC presents a broader range of effects on urinary bladder function including regulation of storage, emptying, excitability of the detrusor, and bladder innervation.
Summary
In this review, we evaluated the mechanisms of peripheral and local regulation of PKC signaling in the urinary bladder, and their impact on different phases of the micturition cycle under physiological and pathophysiological conditions.