17.08.2017 | Review article | Ausgabe 4/2017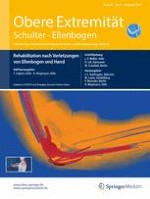 Rehabilitation of elbow fractures and dislocations
Zeitschrift:
Autoren:

Dr. Michael Hackl, Tim Leschinger, Stephan Uschok, Lars Peter Müller, Kilian Wegmann
Abstract
Introduction
Elbow fractures and dislocations cause injury to important stabilizing structures and require specific treatment in order to regain functionality of the elbow joint. Regardless of whether surgical or non-surgical treatment is performed, correct rehabilitation following diagnosis of the injury pattern is crucial to achieve the best possible outcome in each individual case.
Distal humerus fractures
After osteosynthesis, as well as after total elbow arthroplasty of distal humerus fractures, the postoperative protocol depends on whether a triceps-on or triceps-off approach was used. While triceps-on approaches allow active extension immediately postoperatively, triceps-off approaches require a more restrictive protocol.
Radial head fractures
Radial head fractures are frequently accompanied by additional osteoligamentous injuries. Rehabilitation following radial head fractures usually involves active-assisted mobilization over the full range of motion; however, concomitant injuries need to be considered when formulating a treatment plan.
Proximal ulna fractures
Rehabilitation of surgically treated olecranon fractures commonly includes active flexion and gravity-assisted extension. Coronoid fractures are often the result of posterior elbow dislocation, which needs to be kept in mind during rehabilitation of these injuries. Complex proximal ulna fractures (e. g. Monteggia-like injuries) are frequently associated with persisting disability.
Ligamentous elbow dislocation
Simple elbow dislocations are usually treated non-surgically. Early functional treatment should be preferred over prolonged immobilization as it decreases the risk of post-traumatic elbow stiffness without increasing the possibility of persistent instability.