01.06.2014 | Original Article | Ausgabe 6/2014 Open Access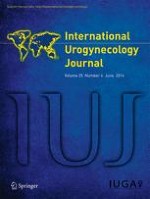 Reinforcement of suspensory ligaments under local anesthesia cures pelvic organ prolapse: 12-month results
Zeitschrift:
Autoren:

Yuki Sekiguchi, Manami Kinjo, Yoshiko Maeda, Yoshinobu Kubota
Wichtige Hinweise
Brief summary
To assess the effectiveness of the tissue fixation system under local anesthesia/sedation for the treatment of pelvic organ prolapse at 12 months
Abstract
Introduction and hypothesis
In 2005, a new minimally invasive procedure, the tissue fixation system (TFS) was reported. Like TVT (tension-free vaginal tape), the TFS works by creating a foreign body collagenous tissue reaction that reinforces a weakened pelvic ligament. The objective was to assess the effectiveness and perioperative safety of TFS in a day surgery clinic for the treatment of pelvic organ prolapse (POP).
Methods
The TFS tape was applied in a tunnel adjacent to natural ligaments to repair the anterior cervical ring and cardinal ligament, paravaginal tissues and uterosacral ligaments under local anesthesia/sedation.
We prospectively studied 60 patients, mean age 67, between October 2008 and February 2010 at Women's Clinic LUNA. Levels of POP were grade 2 (
n
 = 20; 7 %), grade 3 (
n
 = 30; 55 %), and grade 4 (
n
 = 4; 7 %) according to the ICS POPQ classification. Fifty-four patients (90 %) who underwent a total of 162 POP operations presented for review. Follow-up was performed at 12 months. We defined surgical failure according to the ICS POPQ classification. We used prolapse quality of life (P-QOL) questions for QOL measurement.
Results
Ninety-eight percent of patients were discharged on the day of surgery. Of the162 TFS operations reviewed, 157 were successful and 5 failed. The 5 failed operations comprised 4 cystoceles and 1 rectocele. Two patients developed cervical protrusions at the introitus at 6 months with no prolapse of the uterine body. We found 5 cases of erosion in 162 tape insertions. The total number of patients who had no complications, no surgical failures, no erosions, no sensation of bulging, and no cervical protrusions was 47 (87 %).
Conclusions
The TFS uses the same surgical principle for repair as the TVT; this principle vastly minimizes the volume of mesh used, erosions, and other complications.