04.12.2017 | Reizdarmsyndrom | Sonderheft 7/2017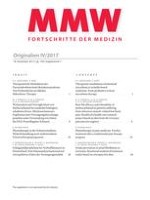 Therapeutische Modulation der Darmmikrobiota beim Reizdarmsyndrom
Von Probiotika bis zur fäkalen Mikrobiota-Therapie
Zeitschrift:
Autoren:

Prof. Dr. med. habil. P. C. Konturek, Prof. Dr. med. Yurdagül Zopf
Wichtige Hinweise
This article is part of a supplement not sponsored by the industry.
Interessenkonflikt
Prof. Dr. med. Peter Konturek und Prof. Dr. med. Yurdagül Zopf erklären, dass keine finanziellen Interessenkonflikte in Bezug auf dieses Manuskript bestehen.
Zusammenfassung
Hintergrund
Eine gestörte Darmmikrobiota (Dysbiose) spielt eine zentrale Rolle in der Pathogenese funktioneller Darmerkrankungen, insbesondere des Reizdarmsyndroms.
Methode
In der Übersichtsarbeit sind vier derzeitige Optionen zur Behandlung des Reizdarmsyndroms dargestellt, die über eine Modulation der Darmmikrobiota wirken.
Ergebnisse und Schlussfolgerungen
Probiotika wirken sehr unterschiedlich auf die einzelnen Symptome des Reizdarms. Die Wahl des geeigneten Präparats sollte sich deshalb nach den klinischen Symptomen richten. Rifaximin ist bei ausgewählten Patienten wirksam. Einige Patienten profitieren auch von der Wiederholung dieser Antibiotikatherapie. Eine FODMAP-reduzierte Diät hat in Studien eine signifikante Linderung der Reizdarmsymptome gezeigt. Die fäkale Mikrobiota-Therapie (FMT) ist eine vielversprechende Behandlungsmöglichkeit. Derzeit fehlen allerdings entsprechende placebokontrollierte Studien, um die engültige Wirksamkeit dieser Methode beurteilen zu können.