01.12.2015 | Research article | Ausgabe 1/2015 Open Access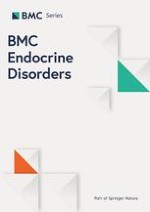 Relationship between neutrophil-lymphocyte ratio and insulin resistance in newly diagnosed type 2 diabetes mellitus patients
Zeitschrift:
Autoren:

Meiqin Lou, Peng Luo, Ru Tang, Yixian Peng, Siyuan Yu, Wanjing Huang, Lei He
Wichtige Hinweise
Competing interests
The authors declare that they have no competing interests.
Authors' contributions
ML, with the most contribution to the study, was responsible for the study design, data collection, and manuscript writing. PL, RT, YP, SY, and WH helped with the acquisition and interpretation of data and with manuscript revisions. PL also analyzed the data. LH guaranteed this work, provided academic guidance, and took responsibility for the accuracy of the data analysis. All authors read and approved the final manuscript.
Abstract
Background
Insulin resistance (IR) plays a vital role in the pathogenesis of Type 2 Diabetes Mellitus (T2DM). The mechanism of IR may be associated with inflammation, whereas the neutrophil-lymphocyte ratio (NLR) is a new indicator of subclinical inflammation. Scholars have rarely investigated the relationship between IR and NLR. This study aims to evaluate the relationship between IR and NLR, and determine whether or not NLR is a reliable marker for IR.
Methods
The sample consists of a total of 413 patients with T2DM, 310 of whom have a HOMA-IR value of > 2.0. The control group consists of 130 age and BMI matched healthy subjects.
Results
The NLR values of the diabetic patients were significantly higher than those of the healthy control (P < 0.001), and the NLR values of the patients with a HOMA-IR value of > 2.0 are notably greater than those of the patients with a HOMA-IR value of ≤ 2.0 (P < 0.001). Pearson correlation analysis showed a significant positive correlation of NLR with HOMA-IR (r = 0.285) (P < 0.001). Logistic regression analysis showed that the risk predictors of IR include NLR, TG and HbA1c. NLR (P < 0.001, EXP(B) = 7.231, 95% CI = 4.277–12.223) levels correlated positively with IR. The IR odds ratio increased by a factor of 7.231 (95% CI, 4.277–12.223) for every one unit increase in NLR.
Conclusions
Increased NLR was significantly associated with IR, and high NLR values may be a reliable predictive marker of IR.