01.12.2018 | Research article | Ausgabe 1/2018 Open Access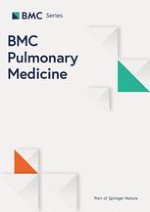 Relationship between pulmonary function and peripheral vascular function in older Chinese: Guangzhou biobank cohort study-CVD
Zeitschrift:
Autoren:

Jing Pan, Lin Xu, Tai Hing Lam, Chao Qiang Jiang, Wei Sen Zhang, Feng Zhu, Ya Li Jin, G. Neil Thomas, Kar Keung Cheng, Peymane Adab
Abstract
Background
Findings describing the relationship between pulmonary function and peripheral vascular function have been inconclusive. We explored this relationship in Guangzhou Biobank Cohort Study-Cardiovascular Subcohort (GBCS-CVD).
Methods
Brachial-ankle pulse wave velocity (baPWV) and ankle brachial index (ABI) were measured by a waveform analyser, and pulmonary function by turbine flowmeter spirometry. Predicted forced expiratory volume in 1 s (FEV1) and forced vital capacity (FVC) were derived using equations for Chinese. Regression analyses were used to investigate the association.
Results
Of 1528 older Chinese, 980 (64.1%) had arterial stiffness (baPWV ≥1400 cm/s), but only 29 (1.9%) had peripheral arterial disease (PAD) (ABI < 0.9). The mean (±standard deviation, SD) baPWV was 1547 (±298) cm/s and mean (±SD) ABI 1.09 (±0.09). Before and after adjusting for potential confounders, baPWV was negatively associated with FEV
1
and FVC % predicted (% predicted = observed/predicted × 100%) (adjusted β: − 0.95 and − 1.16 respectively,
p
 < 0.05), and ABI was marginally non-significantly positively associated with FEV
1
% predicted (adjusted β 0.02,
p
 = 0.32) and FVC% predicted (adjusted β 0.02,
p
 = 0.18). Compared to participants in the highest tertile of pulmonary function, those in the lowest had higher risk of arterial stiffness (adjusted odds ratio (AOR) 1.51, 95% CI 1.09–2.10 for FEV
1
and AOR 1.69, 95% CI 1.22–2.33 for FVC), but the higher risk of PAD was marginally non-significant (AOR 1.64,
p
 = 0.42 for FEV
1
and AOR 1.65,
p
 = 0.24 for FVC).
Conclusion
In older relatively healthy normal weight Chinese, pulmonary function was inversely dose-dependently associated with arterial stiffness, while the association with PAD was much weaker.