01.12.2014 | Original Article | Ausgabe 6/2014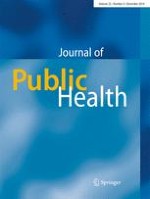 Relationship between screening plasma glucose concentrations and cancer- and all-cause mortality: the Jichi Medical School (JMS) cohort study
Zeitschrift:
Autoren:

Eiichi Kakehi, Kazuhiko Kotani, Shizukiyo Ishikawa, Tadao Gotoh, Kazunori Kayaba, Yosikazu Nakamura, Eiji Kajii
Abstract
Aim
Whether plasma glucose concentrations at the screening level in the public health care setting can predict mortality remains to be determined in Japanese people. The aim of this study was to investigate the relationships between screening plasma glucose concentrations and cause- and all-cause mortality in a general Japanese cohort.
Subjects and methods
The current study investigated 11,998 community-dwelling participants from 12 Japanese communities who had been registered in the Jichi Medical School Cohort Study (a population-based prospective cohort study) between 1992 and 1995. Mortality was documented as the primary outcome. The relationships between screening plasma glucose concentrations and outcomes were analyzed using Cox proportional hazard models.
Results
In all, 1,050 deaths (men/women = 631/419) were identified during a follow-up period of 10.7 years. Compared with the lowest glucose concentration (<5.22 mmol/L), multivariate-adjusted hazard ratios for the highest glucose concentration (≥6.11 mmol/L) were 1.52 (95 % confidence interval [CI], 1.25–1.85) for all-cause mortality and 1.76 (95 % CI, 1.29–2.41) for cancer-cause mortality in men and 4.65 (95 % CI, 1.69–12.78) for myocardial infarction mortality in women.
Conclusions
The current Japanese population-based cohort study suggests that high screening plasma glucose concentrations can predict cancer- and all-cause mortality, particularly in men.