01.03.2013 | Regular Article | Ausgabe 2/2013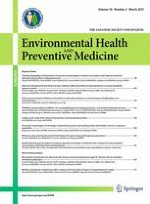 Relationship between the degree of property damage and changes in red blood cells, hematocrit, and hemoglobin among victims of the Noto Peninsula Earthquake
Zeitschrift:
Autoren:

Shizuko Omote, Miho Kato, Teruhiko Kido, Rie Okamoto, Akie Ichimori, Chiaki Sakakibara, Keiko Tsukasaki
Abstract
Objectives
The aim of this study was to assess the impact of the Noto Peninsula Earthquake on various hematologic parameters. We studied the relationships between the degree of property damage and changes in red blood cells (RBCs), hemoglobin (Hb), and hematocrit (Ht) among residents before and after the March 2007 Noto Peninsula Earthquake.
Methods
A total of 5,563 residents of Wajima City who were not receiving oral treatment for anemia and who had received basic health screenings for fiscal years (FYs) 2006 and 2007, before and after the earthquake. We analyzed changes in their RBCs, Hb, and Ht levels by gender, age, body mass index (BMI), level of property damage, and evaluation standards.
Results
RBCs, Hb, and Ht for FY2007 showed a trend of decreasing values compared to FY2006 in both male and female subjects. RBCs and Hb significantly decreased in females aged between 65 and 74 years who experienced total property damage, and Ht significantly increased for those younger than 65 years who experienced the same level of damage. In addition, significant differences by degree of property damage and FY2007/FY2006 ratio were seen only among subjects with a BMI ratio <1. Furthermore, we found a significant relationship between reduction of RBCs or Hb and increasing age in females; however, no significant relationship to property damage was found. No significant relationships were found for males.
Conclusions
A significant association between property damage and changes in RBCs, Hb, and Ht was not found in this population of residents who experienced the Noto Peninsula Earthquake.