01.12.2015 | Research article | Ausgabe 1/2015 Open Access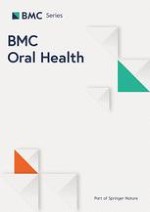 Relationship of psychological and oral health statuses with self-perceived halitosis in a Jordanian population: a cross-sectional study
Zeitschrift:
Autoren:

Firas Q. Alzoubi, Jumana A. Karasneh, Nidal M. Daamseh
Wichtige Hinweise
Competing interests
The authors declare that they have no competing interests.
Authors' contributions
ND carried out the periodontal examinations and collected the epidemiological data. JK performed the OLTs and BANA tests and drafted the manuscript. FA conceived of and designed the study, performed the otolaryngological examinations and statistical analyses, and helped to draft the manuscript. All authors read and approved the final manuscript.
Abstract
Background
Self-perceived halitosis could be a symptom of a psychosomatic or psychogenic disorder. The aim of this cross-sectional study was to clarify the relationship of self-perceived halitosis with psychological and oral health statuses.
Methods
One hundred participants with a history of halitosis were enrolled from a teaching hospital. They were divided into the self-perceived and suggested groups if they sensed and did not sense the malodor, respectively. Demographic and socioeconomic information, smoking status, and oral hygiene practices were noted. Complete nasal, oral, and periodontal examinations with organoleptic tests (OLTs) and N-benzoyl-DL-arginine-2-naphthylamide (BANA) tests were conducted. The participants also completed the validated Arabic version of the 90-item revised symptom checklist (SCL-90R). Data were compared by analysis of variance, chi-square test, Student's
t
-test, and multivariate logistic regression.
Results
The self-perceived group had higher OLT scores (p = 0.005) and were significantly younger (p = 0.001) than the suggested group. A significantly higher number of its participants were smokers (p = 0.004). No significant differences were observed in socioeconomic information, oral hygiene practices, oral conditions, and BANA test results. Further, no significant association was noted between self-perceived halitosis and the nine psychological dimensions of SCL-90R.
Conclusions
Halitosis is a multifactorial symptom that requires multidisciplinary management. Self-reporting of the condition is unique entity and trust worthy symptom. It tends to be related to nonoral pathologies and extrinsic causes such as smoking.