01.12.2017 | Research Article | Ausgabe 1/2017 Open Access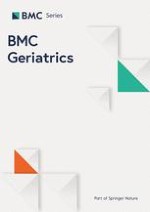 Relationships between cognitive function and body composition among community-dwelling older adults: a cross-sectional study
Zeitschrift:
Autoren:

Hye-Mi Noh, Sohee Oh, Hong Ji Song, Eun Young Lee, Jin-Young Jeong, Ohk-Hyun Ryu, Kyung-Soon Hong, Dong-Hyun Kim
Wichtige Hinweise
Electronic supplementary material
Abbreviations
DEXA
Dual-energy X-ray absorptiometry
GDS
Geriatric depression scale
K-MMSE
Korean Mini-Mental State Examination
Background
Dementia is a major cause of disability and one of the largest disease burdens in the older adult population. As the world's population is rapidly aging, the number of people affected by dementia worldwide is expected to increase from 30 million in 2010 to 106 million in 2050 [
1
]. In Korea, the proportion of the population composed of older adults reached 7.2% in 2000, and is predicted to reach 14.3% by 2018, which is the most rapid aging of any nation [
2
]. Therefore, the burden of dementia in Korea will rapidly increase in the near future. Cognitive decline is a key feature of dementia, and early detection of cognitive impairment allows administration of appropriate treatment and slows the progression of dementia [
3
,
4
]. Identification of risk factors associated with cognitive impairment and early intervention are important issues in the field of primary care for older adults.
Previous studies regarding the association between cognitive performance and body weight status reported inconsistent results. A large, retrospective cohort study in the UK reported that subjects with a higher body mass index (BMI) have a lower risk of dementia, suggesting the "obesity paradox" in dementia [
5
]. In addition, in an Italian population-based study, a higher BMI and higher body fat mass (BFM) were positively associated with better performance on cognitive tasks related to selective attention and executive functions [
6
]. The population-based, prospective Mayo Clinic Study of Aging suggested that a greater decrease in BMI per decade was associated with the mild cognitive impairment [
7
]. In the Sydney Memory and Aging Study, BMI and body fat measured by dual-energy X-ray absorptiometry (DEXA) were related to executive function, suggesting cognitive benefits in overweight older adults [
8
]. However, a longitudinal study (The TREVISO LONGEVA (TRELONG) Study) among northern Italian adults aged ≥70 years suggested that a high baseline BMI is risk factor for cognitive decline [
9
]. Few studies have involved Asian populations, which have lower BMI thresholds for overweight and obesity [
10
]. A Chinese study reported that central obesity or low BMI were significantly associated with the risk of cognitive impairment [
11
].
Although most previous studies used BMI to diagnose obesity, aging is accompanied by various changes in the body, such as decreasing height, lean body mass, and body fluid, and increasing fat mass [
12
,
13
]. Therefore, BMI might not precisely reflect adiposity in older adults. Given these limitations of BMI, we used DEXA as a more accurate measure of body composition. To our knowledge, this is the first investigation of the relationships between DEXA measurements of body fat and cognitive performance in older Asian adults. Most previous studies did not consider geriatric depression, which might act as a confounding factor for declining cognition and decreasing body weight in the older adult population [
14
]. We adjusted for a wide range of covariates, including geriatric depression scale (GDS) and metabolic parameters.
In this study, we aimed to determine relationships between body phenotype and composition and cognitive function in older Korean adults, using 2010 data from the Hallym Aging Study.
Methods
Discussion
This study had several limitations. First, it was of a cross-sectional design, which prevented making causal inferences between body composition and cognitive function. Second, because of the relatively small sample size, our results could not well represent the general Korean older adult population. To determine the influence of body composition on cognitive impairment, further large prospective studies are needed. Third, we used the MMSE to assess cognitive function. Although MMSE is the most commonly used screening test for dementia, the results of MMSE may not always match those of a detailed battery of cognitive tests.
Despite these limitations, our study confirmed the associations between specific components of body composition and cognitive function in an older adult Korean population. In addition, we used DEXA as a more accurate measure of body composition, and adjusted for a wide range of confounding factors, such as metabolic parameters and depression.
Conclusions
We demonstrated that higher fat mass and lean mass were associated with lower risk of cognitive impairment in older adult Korean women. Future studies should clarify the relationship between fat mass at older ages and cognitive function.
Acknowledgements
Not applicable.
Funding
This research was supported by Hallym University Research Fund (HURF-2015-33).
The Hallym Aging Study (HAS) was supported by grants from the Korea Research Foundation (047-BM1028).
Availability of data and materials
The datasets is available from the corresponding author on reasonable request.
Ethics approval and consent to participate
The protocols and procedures of our study were approved by Institutional Review Board of Hallym University, and all participants provided informed consents before study enrollment. On behalf of decisionally impaired older adults, legally authorized representative provided the informed consents.
Consent for publication
Not applicable.
Competing interests
The authors declare that they have no competing interests.
Publisher's Note
Springer Nature remains neutral with regard to jurisdictional claims in published maps and institutional affiliations.
Open Access
This article is distributed under the terms of the Creative Commons Attribution 4.0 International License (
http://​creativecommons.​org/​licenses/​by/​4.​0/​
), which permits unrestricted use, distribution, and reproduction in any medium, provided you give appropriate credit to the original author(s) and the source, provide a link to the Creative Commons license, and indicate if changes were made. The Creative Commons Public Domain Dedication waiver (
http://​creativecommons.​org/​publicdomain/​zero/​1.​0/​
) applies to the data made available in this article, unless otherwise stated.