01.12.2012 | Research | Ausgabe 1/2012 Open Access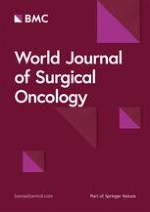 Relationships between serum HER2 ECD, TIMP-1 and clinical outcomes in Taiwanese breast cancer
Zeitschrift:
Autoren:

Hsiu-Pei Tsai, Shin-Cheh Chen, Huei-Tzu Chien, Yi-Yin Jan, Tzu-Chieh Chao, Miin-Fu Chen, Ling-Ling Hsieh
Wichtige Hinweise
Electronic supplementary material
The online version of this article (doi:
10.​1186/​1477-7819-10-42
) contains supplementary material, which is available to authorized users.
Competing interests
The authors declare that they have no competing interests.
Authors' contributions
SCC and LLH conceived the study. HPT performed ELISA assay. SCC, YYJ, TCC and MFC collected the cases and clinical information. HPT, SCC and LLH interpreted the ELISA. HPT, HTC and LLH performed the statistical analysis. HPT performed the literature review and wrote the manuscript. LLH supervised the experiments and manuscript writing. All authors read and approved the final manuscript.
Abstract
Background
Serum levels of the extracellular domain of HER2/neu (HER2 ECD) have been demonstrated to be associated with clinical outcomes. A disintegrin and metalloproteinase-10, a sheddase of HER2/neu, can drive cancer progression and its activity is inhibited by tissue inhibitor of metalloproteinase-1 (TIMP-1). However, elevated TIMP-1 expression has been associated with a poor prognosis of breast cancer. Therefore, this study was performed to explore the relationships between serum HER2 ECD, TIMP-1 and clinical outcomes.
Methods
One hundred and eighty-five female breast cancer patients, who received curative mastectomy without neo-adjuvant chemotherapy at Chang-Gung Memorial Hospital, were recruited with informed consent for this study. Pre-operative serum levels of HER2 ECD and TIMP-1 were measured using an enzyme-linked immunosorbent assay.
Results
Twenty-three cases (12.4%) were classified HER2 ECD positive. HER2 ECD positivity was significantly associated with age, lymph node involvement, histological grade, estrogen receptor status, progesterone receptor status, tissue HER2/neu overexpression, and disease-free survival (DFS). In an age, stage, ER and HER2/neu status matched subgroup (N = 41), the serum level of TIMP-1 was significantly associated with HER2 ECD positivity and DFS.
Conclusions
A high serum TIMP-1 was significantly associated with HER2 ECD positivity and a poorer DFS among Taiwanese primary breast cancer patients with HER2 overexpression.