01.02.2012 | Original Article | Ausgabe 2/2012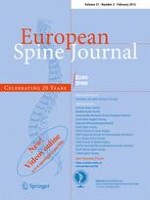 Remodeling of adjacent spinal alignments following cervical arthroplasty and anterior discectomy and fusion
Zeitschrift:
Autoren:

Sung Bae Park, Tae-Ahn Jahng, Chun Kee Chung
Abstract
Objective
To evaluate the effects of cervical artificial disc replacement (ADR) and anterior discectomy and fusion (ACDF) on adjacent spinal alignments.
Methods
The cohort consisted of 33 patients who undergone single-level cervical ADR (15 patients) and ACDF (18 patients) for radiculopathy, who had not had any previous spine surgery, and who had a minimum follow-up of 2 years. Whole-spine lateral radiographs were taken at the pre-operative and follow-up consultations. Cervical lordosis, thoracic kyphosis, lumbar lordosis, and sagittal balance were measured each time. The patients filled out pre-operative and follow-up functional evaluation forms including visual analogue scale (VAS) of neck and arm. The mean follow-up durations of patients who had cervical ADR and ACDF were 28 ± 5.0 and 30 ± 5.8 months, respectively. The patients having ACDF had the higher mean age (53 ± 9.0 years) than that of patients with cervical ADR (45 ± 11.7 years).
Results
The cervical lordosis and thoracic kyphosis in cervical ADR group increased significantly more than those of the ACDF group in follow-up assessment (
P
= 0.011 and 0.012). There was no significant change of lumbar lordosis in intra- and inter-group analyses. The follow-up sagittal balances for the cervical ADR and ACDF groups moved towards a neutral value. Although the follow-up neck and arm VAS of the both groups improved than those of the pre-operative status, the groups did not differ significantly except for a difference in neck VAS, which improved more after ADR.
Conclusions
The remodeling of cervical and thoracic curves after cervical ADR and ACDF was coupled and complementary. Cervical ADR contributed the restorations of angulations of cervical and thoracic spines. The neck VAS improved more after cervical ADR than after ACDF.