12.08.2016 | Technical Note - Neurosurgical Techniques | Ausgabe 10/2016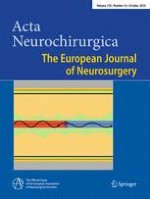 Removal of symptomatic titanium fixation plates after craniotomy
Zeitschrift:
Autoren:

Raghav Gupta, Nimer Adeeb, Christoph J. Griessenauer, Justin M. Moore, Apar S. Patel, Ajith J. Thomas, Christopher S. Ogilvy
Wichtige Hinweise
Comments
Bone flaps after craniotomy are usually fixed with suture material, miniplates, titanium clamps, or others devices. In some cases, fixation with suture material is not optimal as it may result in shifting of the bone flap with its dislocation. Titanium clamps, which eliminate the need for screws, have lower profiles than miniplate fixation systems and enable rapid cranial fixation. However, the clamps must be anchored underneath the dura, which can result in vascular damage and bleeding. Titanium miniplates are currently used worldwide in rigid fixation to promote skull bone formation after craniotomy, with excellent results in terms of stability and intraoperative efficiency. Despite the wide use, however, these plates are not completely inert, and the daily practice shows that the use of titanium plates for rigid flap fixation is not completely free of complications.
In this retrospective study, the authors analyzed 319 cases after cranial titanium fixation with plates after craniotomy. In nine patients (2.8 %), the cranial miniplates were removed because of pain or protrusion. All patients had palpable plates, which lead to soft tissue erosion and possible irritation of the nociceptors, necessitating immediate removal. The literature reports many cases of early and late complications, especially in the maxillofacial surgery. The authors report a relatively high rate of complications even for neurosurgical patients, and precautions are needed to minimize the complications of this minor part of the operation, which can produce serious and late concerns for patients after a successfully performed neurosurgical procedure. As suggested by the authors, a possible technical improvement to reduce the complication rate is the avoidance of a full-size burr hole in the pterional keyhole area (or reduce the size of the burr hole), as well the avoidance of plate placement near a nerve foramen, or on facial bony prominences, or attempt to place hardware in alternative sites. Further technical and material developments such as absorbable hardware are desirable to reduce the complication rate and increase the safety of the surgical procedures.
Alex Alfieri
Lehal Török
Neuruppin, Germany
Abstract
Introduction
Titanium fixation plates are routinely used for rigid fixation of bone flaps after craniotomy. In craniofacial surgery or after craniotomy involving orbitozygomatic osteotomies, these plates are occasionally removed because of infection, pain, protrusion, soft tissue erosion, and plate malfunction. However, plate removal because of pain and protrusion after craniotomy without orbitozygomatic osteotomy has rarely been reported.
Methods
A retrospective analysis of all patients who underwent removal of cranial fixation plates after craniotomy, performed by the senior authors at one institution between 2014 and 2016, was conducted.
Results
A total of 319 patients underwent bone flap fixation after craniotomy using cranial fixation plates between 2014 and 2016. Five of those patients (1.6 %) had their cranial plates removed because of pain and protrusion. An additional four patients had a cranial fixation plate removed during that time frame with the original craniotomy performed before 2014. All nine patients had immediate resolution of symptoms after plate removal.
Conclusion
We report our experience with cranial fixation plate removal because of pain and protrusion in patients who underwent craniotomy without orbitozygomatic osteotomy, particularly frontotemporal craniotomy. In an attempt to reduce this complication, we recently stopped placing a full-size burr hole in the keyhole area of a frontotemporal craniotomy, eliminating the need for a titanium burr hole cover plate.