11.11.2017 | Ausgabe 7/2018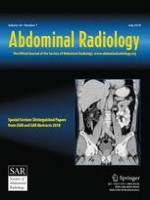 Renal cancer at unenhanced CT: imaging features, detection rates, and outcomes
Zeitschrift:
Autoren:

Stacy D. O'Connor, Stuart G. Silverman, Laila R. Cochon, Ramin K. Khorasani
Abstract
Purpose
To describe and quantify the rate of detection of renal cancer on unenhanced CT.
Methods
This retrospective, HIPAA-compliant study was approved by the Institutional Review Board. Electronic health records for all patients who underwent unenhanced abdominal CT at our institution between 2000 and 2005 were reviewed to identify patients subsequently diagnosed with renal cancer during a follow-up period of up to 12 years. Images were reviewed to determine if the cancer was visible at index (first) unenhanced CT and their findings recorded. Original radiology reports were reviewed to determine whether the renal cancer was reported; Fisher's Exact Test compared imaging features of detected and missed cancers. Clinical outcomes including time until diagnosis and stage at diagnosis were used to assess the potential impact of missed cancers.
Results
Of 15,695 patients, 82 (0.52%) were diagnosed with renal cancer. Of these, 43/82 (52%) cancers were retrospectively detectable on index unenhanced CT. Among retrospectively detectable cancers, 63% (27/43) were originally detected and reported on index CT and 37% (16/43) were missed. Size was the only feature associated with detection; 83% (20/24) of cancers > 3.0 cm were detected versus 37% (7/19) of cancers ≤ 3.0 cm (
p
= 0.0036). Although none of the 16 missed renal cancers developed metastases between index CT and time of diagnosis (median 33.5 months), 4 (25%) progressed in stage.
Conclusions
Renal cancer was rare in patients undergoing unenhanced abdominal CT. Over one-third of potentially detectable cancers were missed prospectively. However, missed cancers did not metastasize and infrequently progressed in stage before being diagnosed.