24.01.2019 | Original Article | Ausgabe 3/2019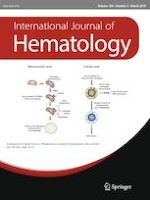 Renal dysfunction and anemia associated with long-term imatinib treatment in patients with chronic myelogenous leukemia
Zeitschrift:
Autoren:

Masatoshi Sakurai, Taku Kikuchi, Daiki Karigane, Hidenori Kasahara, Eri Matsuki, Risa Hashida, Yusuke Yamane, Ryohei Abe, Yuya Koda, Takaaki Toyama, Jun Kato, Takayuki Shimizu, Yuta Yokoyama, Sayo Suzuki, Tomonori Nakamura, Shinichiro Okamoto, Takehiko Mori
Wichtige Hinweise
Publisher's Note
Springer Nature remains neutral with regard to jurisdictional claims in published maps and institutional affiliations.
Abstract
Knowledge of the toxicity profile of long-term treatment with imatinib is limited. In the present study, we sought to evaluate renal function and hemoglobin levels during long-term imatinib treatment. Eighty-two patients with chronic myelogenous leukemia in chronic phase who had been on imatinib for over 5 years were retrospectively analyzed. The mean estimated glomerular filtration rate (eGFR) was significantly decreased over 5 years (77 ± 17 to 62 ± 14 ml/min/1.73m²,
P
 < 0.001). Higher age and lower eGFR value at initiation of imatinib were significantly associated with development of renal dysfunction by multivariate analyses. Mean hemoglobin levels also significantly decreased over the 5-year period (12.9 ± 1.7 to 12.4 ± 1.3 g/dl,
P
 < 0.01). The rate of decrease in eGFR correlated significantly with hemoglobin levels (correlation coefficient = − 0.249,
P
 < 0.05). Serum erythropoietin (EPO) levels did not increase in 16 patients with both renal dysfunction and anemia (median, 31.9 mIU/ml). In patients who participated in a clinical trial of imatinib discontinuation, mean eGFR (50.0 ± 6.5 to 56.0 ± 10.2 ml/min/1.73m²,
P
 < 0.05) and hemoglobin levels (12.0 ± 1.7 to 14.0 ± 1.6 g/dl,
P
 < 0.01) improved significantly at 1 year after discontinuation. These findings suggest that long-term imatinib results in a partially reversible continuous decline in renal function and decreased hemoglobin levels.