21.06.2016 | Original Paper | Ausgabe 8/2016 Open Access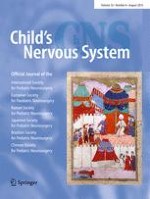 Renal function in children treated for central nervous system malignancies
Zeitschrift:
Autoren:

Katarzyna Musiol, Grażyna Sobol-Milejska, Łukasz Nowotka, Karolina Torba, Maria Kniażewska, Halina Wos
Abstract
Aim
The aim of the study was to evaluate renal function and to assess the usefulness of the following nephrotoxicity markers: cystatin C (CYS C), beta-2 microglobulin (B2MG) and neutrophil gelatinase-associated lipocalin (NGAL) in 38 (18 girls, 20 boys) children previously treated for central nervous system malignancy.
Material
Median age at evaluation was 13.7 years (range 2.1–22 years). The mean follow-up time after the completion of chemotherapy was 3.2 years (range 0.16–6.5 years).
Results
Subclinical chronic kidney disease (estimated glomerular filtration rate: eGFR 90–60 ml/min/1.73 m
2
) was found in 22 patients (58 %), while renal insufficiency (eGFR 30–60 ml/min/1.73 m
2
) was found in six children (16 %). It has been demonstrated statistically significant negative correlation between the eGFR and cystatin C concentration (
p
 < 0.0001) and eGFR and beta-2 microglobulin concentration (
p
 < 0.02). Conversely, there was no correlation between eGFR and NGAL. Thirteen children (34 %) developed drug-induced tubulopathy: decreased tubular reabsorption of phosphate (TRP) and renal tubular threshold for phosphate (Tmp/GFR).
Conclusion
Children treated for CNS tumours often develop drug-induced chronic renal disease, involving the glomeruli and/or renal tubules. Cystatin C and beta-2 microglobulin seemed to be good markers for chronic kidney damage in these patients, which is probably not true for NGAL.