01.03.2016 | Original Article | Ausgabe 2/2016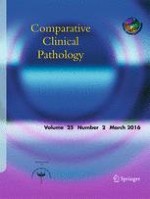 Renal structure and its concentrating ability in the Persian squirrel (
Sciurus anomalus

)
Zeitschrift:
Autoren:

Nader Goodarzi, Mohsen Akbari
Abstract
The present study was conducted to investigate the morphological characteristics of the kidney and its urine concentrating ability in the Persian squirrel. The kidneys of five male Persian squirrel which suffered from diseases unrelated to the urogenital system were used for morphometric measurements and biochemical analysis of blood and urine under their owner's permission. There was no statistical significance found between the linear measurements (length, width, and thickness) between the right and left kidneys (
P
 > 0.05). Also, no statistically significant difference existed between the renal morphometric indices, namely cortex thickness, medullary thickness, relative medullary thickness, inner medulla/cortex ratio, and medulla/cortex ratio of both kidneys (
P
 > 0.05). The values of relative medullary thickness for the right and left kidneys were calculated as 5.73 and 5.79, respectively. Urine osmolality was measured 1017 mosmol/kg H
2
O as well as Na
+
1360 mmol/l, K
+
322 mmol/l, and urea 427 mmol/l. The findings of the present study revealed that considering the effective factors such as relative medullary thickness, body mass, kidney mass, and habitat, the Persian squirrel has a lower urine concentrating ability when compared with other species of squirrel and rodents. In addition, cation concentration has a more significant role in urine osmolality than urea.