01.03.2013 | Original Article | Ausgabe 1/2013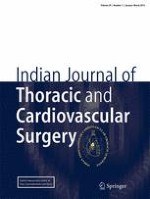 Renin angiotensin aldosterone system (RAAS) gene polymorphism in CABG patients: a translational study
Autoren:

Nirupama Devi, Karunakara Padhy, Velaga Lakshmi, Ponangi Venkat Satyanarayana, Pasumarty Veerraju
Wichtige Hinweise
Presented at 58th Annual meeting of IACTS and joint workshop with EACTS at Kolkata February 2012.
Abstract
Introduction
Coronary Artery Disease (CAD) has emerged as the commonest slowly progressing epidemic disease in many parts of the world and is expected to be the leading cause of adult morbidity and mortality. Coronary Artery Bypass Grafting (CABG) remains a critical end point treatment option for severe atherosclerotic disease. Various risk factors including genetic variations have been identified as risk factors for CAD. Genetic polymorphism involving Renin Angiotensin Aldosterone System (RAAS) has been studied extensively. In the present study we have analyzed association of RAAS gene polymorphism in patients undergoing CABG.
Materials and methods
Between 2008 and 2010, 66 patients of CAD who had undergone CABG and 100 healthy age and sex matched controls were inducted into the study. Blood samples were taken from all patients and controls for genetic analysis of RAAS gene polymorphism.
Result
The frequency of Angiotensin Converting Enzyme Insertion/Deletion (ACE I/D) gene polymorphism and its allele between cases and controls showed high frequency of DD(Deletion homozygus) genotype in CABG cases in comparison to controls (
P
 < 0.00001). D allele frequency was high in CABG cases (
P
 < 0.000001). The frequency distribution of Angiotensinogen (AGT) M235T gene polymorphism of cases and controls also revealed high incidence of TT(T homozygous) genotype in CABG cases in comparison with controls (
P
 < 0.000002). Allele frequency distribution also showed T allele being more frequent in CABG cases compared to controls (
P
 < 0.0000001).
The frequency distribution of Angiotensin II Type 1 Receptor (AT1R) A1166c gene polymorphism and its allele showed no statistical significant difference between the two groups.
Conclusion
DD and TT genotype appears to have significant association with CABG patients. More studies are required to confirm this association and its relevance to clinical practice and the understanding of the role of ACE inhibitors in this subset of CAD.