23.06.2018 | Miscellaneous | Ausgabe 8/2018 Open Access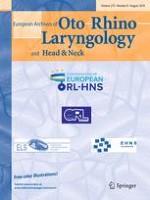 Repair of bony lateral skull base defects equal to or larger than 10 mm by extracorporeally sewed unit-sandwich graft
Zeitschrift:
Autoren:

Shabbir Indorewala, Gaurav Nemade, Abuzar Indorewala, Gauri Mahajan
Abstract
Objective
To see effectiveness of the senior author's repair technique for repair of large (equal to or larger than 10 mm) bony lateral skull base defects.
Study design
Retrospective.
Settings
Secondary/tertiary care center.
Methods
We performed retrospective review of 9 surgeries done in our institution between January 2010 and December 2013 for repair of large lateral bony skull base defects. We defined skull base defects extra-cranially and repaired them intra-cranially. We made an extracorporeal sandwich of autologous fascia-bone-fascia (fascia lata and nasal septal bone) and sewed it together to make it into a unit-sandwich graft. This extracorporeally sewed unit-sandwich graft was then inserted to close the large skull base defects either via (1) a cranial slit-window, or (2) the skull base defect itself. Since skull base is bony, bony repair is preferred. Bone plates that are easily available for skull base repair are calvarial and nasal septal bone. Occasionally, harvest of split calvarial bone carries risk of major complications. We preferred nasal septal bone. Harvesting of septal bone even in children using a posterior incision should not disturb the cartilage growth centers.
Results
All nine patients were operated by this technique. We had four patients with cerebrospinal fluid leak, and five patients with brain herniation. All these patients had complete reversal of herniation of cranial contents and cessation of cerebrospinal fluid leak. On imaging, in 6 cases the bone graft remained in original intended position after 12 months of surgery. The bone graft was not identifiable in 3 cases.
Conclusion
The senior author's technique using autologous multi-layered graft is simple to master, repeatable and very effective.