01.02.2007 | Review | Ausgabe 2/2007 Open Access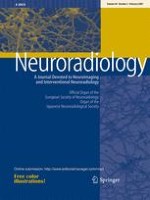 Reperfusion injury following cerebral ischemia: pathophysiology, MR imaging, and potential therapies
Zeitschrift:
Autoren:

Jie Pan, Angelos-Aristeidis Konstas, Brian Bateman, Girolamo A. Ortolano, John Pile-Spellman
Introduction
In the treatment of acute stroke, restoration of the blood supply can reduce more extensive brain tissue injured by salvaging a reversibly damage penumbra of tissue [
1
]. This mechanism provides a rationale for clinical trials which have demonstrated that reperfusion after thrombolysis improves clinical outcome in selected patients with acute stroke [
2
].
Reperfusion, however, carries certain risks. Some patients experience disastrous outcomes in the form of fatal edema or intracranial hemorrhage following thrombolysis [
3
]. In some animal stroke models [
4
,
5
], reperfusion after a long ischemic period can cause a larger infarct than that associated with permanent vessel occlusion. Thus, while reperfusion may reduce infarct size and improve clinical outcome in some patients, in others it may exacerbate the brain injury and produce a so-called "cerebral reperfusion injury" [
4
,
6
,
7
]. Cerebral reperfusion injury can be defined as a deterioration of ischemic but salvageable brain tissue after reperfusion.
Thrombolysis [
2
] and embolectomy [
8
,
9
] usually result in reperfusion of the infarcted brain tissue and therefore carry the risk of causing reperfusion injury. Thus reperfusion injury deserves the attention of those interested in the diagnosis and treatment of acute stroke. Strategies to reduce or minimize cerebral reperfusion injury require the understanding of the pathophysiology of cerebral reperfusion injury, and the way the reperfusion injury is visualized by magnetic resonance imaging (MRI). Therapeutic options for preventing or attenuating cerebral reperfusion need to be considered.
Cerebral reperfusion injury: mechanisms and correlation with MRI
Potential therapeutic strategies
Conflict of interest statement
Girolamo A Ortolano, PhD, is Vice President for Scientific Affairs of Pall Corporation. John Pile-Spellman, MD, has received grant support for research from Pall Corporation.