01.12.2017 | Case Report | Ausgabe 1/2017 Open Access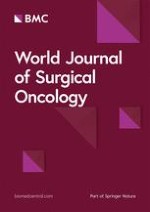 Report of a case combining solitary Peutz-Jeghers polyp, colitis cystica profunda, and high-grade dysplasia of the epithelium of the colon
Zeitschrift:
Autoren:

Alexandros Papalampros, Michail G. Vailas, Maria Sotiropoulou, Efstratia Baili, Spiridon Davakis, Demetrios Moris, Evangelos Felekouras, Ioanna Deladetsima
Abstract
Background
Colitis cystica profunda is a rare nonneoplastic disease defined by the presence of intramural cysts that contain mucus, usually situated in the rectosigmoid area, which can mimic various malignant lesions and polyps. Its etiology still remains not fully elucidated, and several mechanisms such as congenital, post-traumatic, and infectious have been implicated in the development of this rare entity.
Case presentation
Herein, we describe a unique case of colitis cystica profunda in the setting of Peutz-Jeghers-type polyp of the sigmoid colon, associated with high-grade dysplasia of the overlying epithelium in a 48-year-old female patient, who presented to the emergency room with signs of intestinal obstruction. To the best of our insight, this is the first manifestation ever reported in the literature regarding the coexistence of solitary Peutz-Jeghers-type polyp, colitis cystica profunda, and high-grade dysplasia of the epithelium of the colon.
Conclusions
The purpose of this case report is to highlight colitis cystica profunda and its clinical significance. An uncommon nonneoplastic entity, many times masquerading as malignant lesion of the rectosigmoid area of the colon. Clinicians and pathologists should be aware of this benign condition that is found incidentally postoperatively in patients undergoing colectomies, leading to unnecessary increase of morbidity and mortality in these patients, who otherwise could have been cured with conservative treatment only.