27.08.2019 | Case Report | Ausgabe 6/2019 Open Access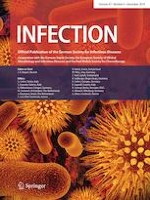 Report on an unusual case of leprosy from Germany: just an exception of the rule?
Zeitschrift:
Autoren:

Malkin Saar, Ingrid Hanus, Kristina Huber, Marcus Beissner, Thomas Löscher, Gisela Bretzel
Wichtige Hinweise
Electronic supplementary material
Background
Case presentation
In March 2009, a 40-year-old patient of Pakistani origin who has been living in Germany for more than 20 years presented at our outpatient department with multiple, macular, hyperpigmented (reddish), painless lesions on trunk and extremities with moderate hyposensitivity. The lesions had occurred 1 year ago subsequent to a family visit in Pakistan in October 2008. The patient had erythematous swellings in the face and on the hands, and both earlobes were thickened and reddened. The clinical diagnosis of MB leprosy was laboratory confirmed by means of positive PCR as well as Ziehl–Neelsen microscopy of skin smears and nasal swabs (bacteriological index, BI 1+), a high titer of anti-PGL-I antibodies (> 100 antibody units [AU]) according to the method described by Sticht Groh in 1992 with minor modifications according to standardized procedures of our accredited laboratory and characteristic histopathological findings (foam cells, acid fast bacilli) of a skin biopsy of a macular lesion [
13
]. The patient was treated with 12 months MDT. Furthermore, the patient received prednisolone for 12 weeks due to a type I reverse reaction (indicated by numbness on the dorsum of both feet). The prednisone treatment started 4 weeks after initiation of MDT with a dosage of 40 mg (per day) and was reduced stepwise to 5 mg (per day) from week 6 onward. The numbness began to resolve after 2 weeks.
The clinical symptoms had completely receded in May 2010 and a significant decrease of anti-PGL-I antibodies (< 30 AU in September 2012) was noted. From then on clinical and laboratory follow-up of the patient including PGL-I serology was done in yearly intervals.
In October 2015, the patient presented at our outpatient department with painful swelling and morning stiffness of the middle finger joints without rubor and calor. A significant rise of the anti-PGL-I antibody level (> 100 AU) was noted, unambiguous clinical signs of a relapse were however absent. The diagnosis of rheumatoid arthritis was made elsewhere and the patient received methotrexate therapy over 6 weeks.
In February 2016, the patient presented again at our outpatient department with multiple, macular, erythematous lesions indicative for a relapse of MB leprosy. This time confirmed by histopathology of a skin biopsy of a macular lesion, Ziehl–Neelsen microscopy and RLEP qPCR (repetitive element RLEP of the
M. leprae
genome) of a skin biopsy and nasal swab samples, as well as an unaltered high anti-PGL-I antibody titer. The bacillary load of the patient as determined by microscopy (nasal swab: BI 4+) and quantification by RLEP qPCR (skin biopsy: ~ 300,000 bacteria in 100 µl extract, nasal swab: ~110,000 bacteria in 100 µl extract) was remarkably high [
14
]. Molecular drug resistance testing at the Global Health Institute of the Ecole Polytechnique Fédérale de Lausanne, Switzerland, was conducted according to standardized methods used by the WHO surveillance network for antimicrobial resistance in leprosy and revealed no resistance to rifampicin, dapsone or ofloxacin [
15
,
16
]. Furthermore, the morphological index (MI, i.e., the proportion of solid stained bacilli) was > 30% per nasal swab sample. Based on the assumption that solid stained bacilli are viable, whereas non-solid stained bacilli are dead, the MI according to the method described by McRae and Shepard indicates whether leprosy is active and has been used for a long time to monitor treatment response. However, the reliability of the MI is limited as multiplication of
M. leprae
from non-solid organisms has been reported [
17
,
18
]. A molecular viability assay (16S rRNA RT qPCR [
14
,
19
]; supplementary material 1) proved the presence of viable
M. leprae
in nasal swab samples. Subsequently the patient was put on a second course of MDT (due to delay in delivery the medication started with two doses of rifampicin and MDT was given with 11 days delay). Furthermore, the patient received prednisolone for 16 weeks due to a type I reverse reaction (indicated by numbness in the toes and outer edge of the right foot). The prednisone treatment started 4 weeks after initiation of MDT with a dosage of 40 mg (per day) and was reduced to 30 mg from week 7 onward, to 20 mg from week 9 onward, to 10 mg from week 13 onward and to 5 mg from week 17 to week 20. The numbness began to resolve after 2 weeks.
In close collaboration with the treating physicians of the outpatient department, treatment monitoring was conducted by means of microscopy (BI, MI), quantification of bacillary load by RLEP qPCR (providing the total number of viable and dead bacilli), viability assessment by 16S rRNA RT qPCR of nasal swab samples and PGL-I serology. A tenfold decrease of bacillary load was noted 3 days after start of rifampicin treatment. However, the RNA assay detected viable bacilli in nasal swab samples until day 110 after start of treatment, and solid stained bacilli were seen until day 67 (BI 2 +; MI 10%). Within 6 months anti-PGL-I antibodies decreased again to low levels and have remained around 30 AU since then.
An overview of the case is given in Fig.
1
.
×
Discussion and conclusions
Underlined by the consistent application of laboratory tools for long-term monitoring of treatment, our patient presents a number of noteworthy features from which one can derive valuable information for the management of leprosy, which are of particular importance in countries where the clinical knowledge of leprosy has disappeared.
Acknowledgements
The authors thank Mrs. Kerstin Helfrich and Mrs. Carolin Mengele for excellent laboratory assistance.
Compliance with ethical standards
Conflict of interest
The authors declare that they have no conflict of interest.
Ethical standards statement
Approval by the appropriate ethics committee is not applicable. The patient sought medical advice at our outpatient department and was subjected to routine clinical and laboratory procedures. Like all patients seeking medical advice through our institute, also this patient routinely signed a consent form approving the collection of data and samples. The form is approved by the institutional ethics review board of the Medical Center of the University of Munich (LMU).
Informed consent
Written informed consent to publish case history and pictures was obtained from the patient.
Open Access
This article is distributed under the terms of the Creative Commons Attribution 4.0 International License (
http://​creativecommons.​org/​licenses/​by/​4.​0/​
), which permits unrestricted use, distribution, and reproduction in any medium, provided you give appropriate credit to the original author(s) and the source, provide a link to the Creative Commons license, and indicate if changes were made.