01.12.2018 | Research article | Ausgabe 1/2018 Open Access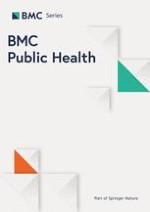 Reported incidence and risk factors of childhood pneumonia in India: a community-based cross-sectional study
Zeitschrift:
Autoren:

Jayashree Gothankar, Prakash Doke, Girish Dhumale, Prasad Pore, Sanjay Lalwani, Sanjay Quraishi, Sujata Murarkar, Reshma Patil, Vivek Waghachavare, Randhir Dhobale, Kirti Rasote, Sonali Palkar, Nandini Malshe
Abstract
Background
Pneumonia is responsible for high morbidity and mortality amongst children under five year of age. India accounts for one-third of the total WHO South East Asia burden of under-five mortality. There is a paucity of epidemiological studies indicating the true burden of pneumonia. Identification of the risk factors associated with pneumonia will help to effectively plan and implement the preventive measures for its reduction.
Methods
It was a descriptive cross-sectional study conducted in 16 randomly selected clusters in two districts of Maharashtra state, India. All mothers of under-five children in the selected clusters were included. A validated pretested interview schedule was filled by trained field supervisors through the house to house visits.WHO definition was used to define and classify clinical pneumonia. Height and weight of children were taken as per standard guidelines. Quality checks for data collection were done by the site investigators and critical and noncritical fields in the questionnaire were monitored during data entry. For continuous variables mean and SD were calculated. Chi-square test was applied to determine the association between the variables. Level of significance was considered at 0.05.
Results
There were 3671 under five-year children, 2929 mothers in 10,929 households.Unclean fuel usage was found in 15.1% of households. Mean birth weight was 2.6 kg (SD;0.61). Exclusive breastfeeding till 6 months of age was practiced by 46% of mothers. Reported incidence of ARI was 0.49 per child per month and the reported incidence of pneumonia was 0.075 per child per year. It was not associated with any of the housing environment factors (
p
 > 0.05) but was found to be associated with partial immunization (
p
 < 0.05). Poor practices related to child feeding, hand hygiene and poor knowledge related to signs and symptoms of pneumonia amongst mother were found.
Conclusions
Very low incidence of pneumonia was observed in Pune and Sangli districts of Maharashtra. Partial immunization emerged as a most important risk factor. Reasons for low incidence and lack of association of pneumonia with known risk factors may be a better literacy rate among mothers and better immunization coverage.