01.12.2013 | Research article | Ausgabe 1/2013 Open Access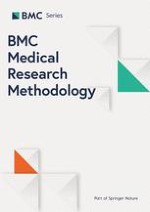 Representativeness of an HIV cohort of the sites from which it is recruiting: results from the Ontario HIV Treatment Network (OHTN) cohort study
Zeitschrift:
Autoren:

Janet Raboud, DeSheng Su, Ann N Burchell, Sandra Gardner, Sharon Walmsley, Ahmed M Bayoumi, Sandra Blitz, Curtis Cooper, Irving Salit, Jeff Cohen, Sean B Rourke, Mona R Loutfy
Wichtige Hinweise
Competing interests
The authors declare that they have no competing interests related to this paper and project.
Authors' contributions
JR, MRL, SW and AMB conceived of the study. DS conducted the statistical analyses under the direction of JMR and MRL. JMR, SB and MRL drafted the manuscript. SR and ANB are Principal Investigator and co-Principal Investigator, respectively, of the OCS and provided insight into recruitment and other issues related to the study CC, JMR, IS, JC and MRL are site investigators of the OCS sites participating in this study. SG contributed insight into recruitment and data management issues of the OCS. All authors reviewed the manuscript during preparation, provided critical feedback and approved the final manuscript.
Abstract
Background
Participation bias is a well-known phenomenon in epidemiologic research, where individuals consenting to research studies differ from individuals who are not able or willing to participate. These dissimilarities may limit the generalizability of results of research studies. Quantification of the participation bias is essential for the interpretation of research findings.
Methods
The Ontario HIV Treatment Network Cohort Study (OCS) is an ongoing open cohort study of HIV positive individuals receiving care at one of 11 sites in Ontario. OCS participants from 4 sites were compared to non-participants (those who declined or were not approached) at those sites with regard to gender, age, HIV risk factor, CD4 count and viral load (VL). Generalized logit regression models were used to identify predictors of declining to participate or not being approached to participate.
Results
Compared to participants (P) in the OCS, individuals who declined to participate (D) and those who were not approached (NA) were slightly younger (D:45, NA:44 vs P:46), less likely to be male (D: 71%, NA:75% vs P:88%), less likely to be Caucasian (D:41%, NA:57% vs P:72%) and less likely to be Canadian-born (D: 39%, NA: 52% vs P: 69%). Patients who were not approached to participate were less likely to have VL < 50 copies/mL than other patients (D: 75%, NA: 62%, P: 74%) and had lower CD4 counts than OCS participants (D: 450 cells/mm3, NA: 420 cells/mm3, P: 480 cells/mm3).
Conclusions
Significant demographic and clinical differences were found between OCS participants and non-participants. Extrapolation of research findings to other populations should be undertaken cautiously.